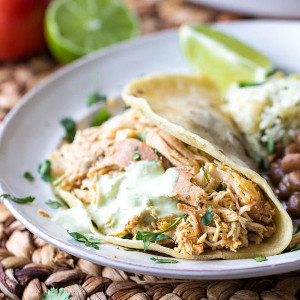 2 pounds chicken breasts
½ cup zesty Italian dressing
¾ tablespoon minced garlic
½ tablespoon chili powder
½ tablespoon ground cumin
1 1 oz package dry ranch dressing mix
½ cup water
Optional toppings:
minced cilantro
roma tomatoes, chopped
olives
fresh lettuce
cilantro ranch dressing
Spray the inside of your slow cooker with cooking spray. Add all of the ingredients except for the chicken into your slow cooker. Mix until combined.
Add the chicken and cook on low for 4-6 hours or on high 3-4 hours until the chicken is no longer pink and cooked throughout.
Remove chicken from the slow cooker and shred. Replace the chicken back in the slow cooker and mix with the juices!