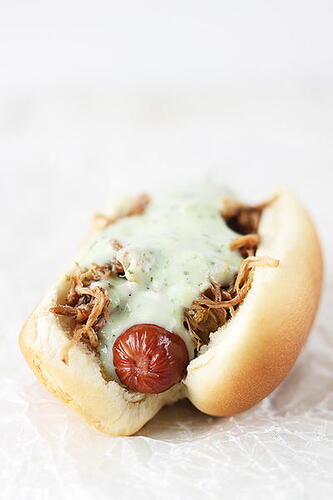 4 hot dogs
4 hot dog buns
1 cup shredded sweet pork
1 cup creamy tomatillo ranch dressing
optional: chopped cilantro
Set oven to high broil. Place hot dogs either directly on rack (perpendicular to the bars so they don't fall through) or on a sheet of tinfoil on top the rack. Cook about 5 minutes, turn hot dogs, and cook another 5 minutes or so until they begin to char a little bit. Remove from oven and place hot dogs in each of the buns.
Top hot dogs with about ¼ cup shredded sweet pork. Drizzle with about ¼ cup tomatillo ranch. Top with chopped cilantro if desired.
Shredded sweet pork
step 1
2 pounds pork (rib meat or loin)
¾ cup coke
¼ cup brown sugar
step 2
1 cup coke
¼ cup water
½ teaspoon garlic salt
¼ teaspoon onion salt
¼ teaspoon chili powder
step 3
¾ cup coke
¾ cup brown sugar
¼ teaspoon chili powder
1 4 ounce can diced green chiles
10 ounces mild red enchilada sauce
Step 1: Place pork in a zip lock bag. Add coke and brown sugar and seal bag. Chill at least 1 hour or overnight.
Step 2: Add pork to slow cooker and discard marinade. Add coke, water, garlic salt, onion salt, and chili powder. Cover and cook on high 3 hours. Drain the slow cooker and shred pork with two forks.
Step 3: Blend coke, brown sugar, chili powder, green chills, and enchilada sauce together in blender. Pour sauce into slow cooker. Cook 30 minutes longer. Serve with rice if desired.
Tomatillo ranch dressing
1 package Hidden Valley Buttermilk Ranch Dressing Mix
1 cup buttermilk
1 cup mayo
1/3 cup water
2 medium-sized tomatillos, husked and chopped
½ cup packed cilantro leaves, roughly chopped
1½ teaspoons minced garlic
1 small jalapeño, seeded and finely diced
1½ teaspoons lime juice
Add all ingredients to your blender and pulse 2-3 minutes until smooth and creamy. Add extra water 1 tablespoon at a time if needed to reach desired consistency. Chill at least one hour before use and store in fridge in airtight container.
Makes about 2 cups