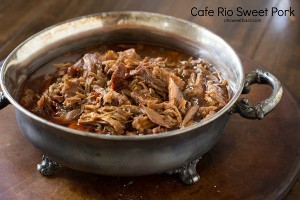 1 (3-lb) pork loin roast
24 oz. Dr. Pepper
1 (10-oz) can green enchilada sauce
1 (10-oz) can red enchilada sauce
1/4 cup brown sugar
1 (7-oz) can chipotle chilies in adobo sauce
2-3 cloves garlic, minced
1 tsp. dry mustard
1 tsp. cumin
¼ tsp. cayenne pepper
Place pork roast and Dr. Pepper in slow cooker on high for 5 hours.
Add the rest of the ingredients and continue cooking on low for another 3 hours.
Before serving, remove chipotle chilies, shred the pork and then pour as much liquid as you like over the pork.
Delicious in tacos, burritos, salads, etc.