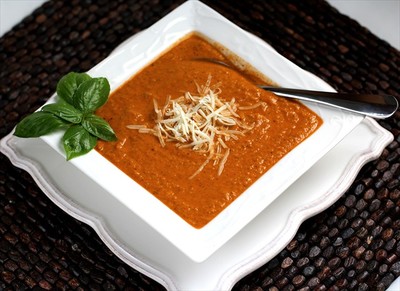 1 1/4 cup Pesto sauce, see recipe below
3 14.5 oz cans of diced tomatoes
1/4 cup butter
2/3 cup diced onion
2 stalks celery, sliced
3/4 tsp dried oregano
2 tsp sugar
1 1/3 cup cream or 1 12-oz can evaporated milk
Pesto Sauce
2/3 cup fresh basil leaves
1/3 cup slivered almonds
1/3 cup shredded Parmesan cheese
2 cloves garlic
1/2 cup olive oil
3/4 tsp salt
For Pesto Sauce blend together until smooth.
Set crockpot on high so that it can begin warming up while you assemble the soup. If you don't want to use a crockpot, feel free to use a saucepan instead.
Wash and slice vegetables.
In a frying pan (or just use the saucepan if you're not using a crockpot) melt butter over medium-high heat.
Add in onion and celery. Cook until vegetables soft, about 5-8 minutes.
Transfer to the crockpot and add in all remaining ingredients, except the cream. At this point the soup doesn't look very tasty. But it will cook down and all the veggies will meld together.
Crockpot: Cook on low 6-7 hours.
Saucepan on stove: Bring to a boil, then turn heat down to low. Simmer for about 2 hours total.
After soup has cooked for most of the time, I then use an immersion blender to get rid of the remaining chunks of vegetables. Cafe Zupa soup is served with some pieces of veggies, but I prefer to blend mine smooth. If you don't have an immersion blender, you can transfer the soup a few cups at a time to your regular blender.
After it's smooth, return to pot and cook for the remaining time. I generally blend it about an hour before serving. Just before serving add the cream or milk.
Top with fresh Parmesan cheese.