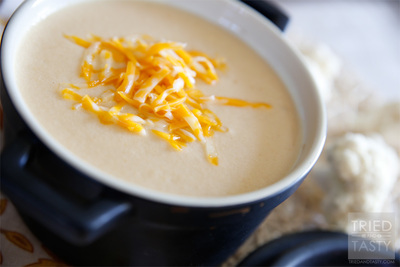 1 small onion
4 TBS butter
3T Flour
2 garlic cloves
1 head of cauliflower, cut up
1 tsp honey dijon mustard
2 cups milk
2 cups SHARP cheddar cheese
1 can chicken or veggie broth
1/2 cup shredded parmesan cheese
Roughly chop onions, and in butter sauté the onion and garlic till onions are starting to get tender. Add flour, and let bubble for 1 minute.
Slowly add milk and broth. Stir in mustard.
Add Cauliflower and let simmer for 10-15 minutes until cauliflower is tender.
Blend in blender, still smooth and return to plan.
On med-low heat add cheese and allow to slowly melt.
Serve immediately with french bread.