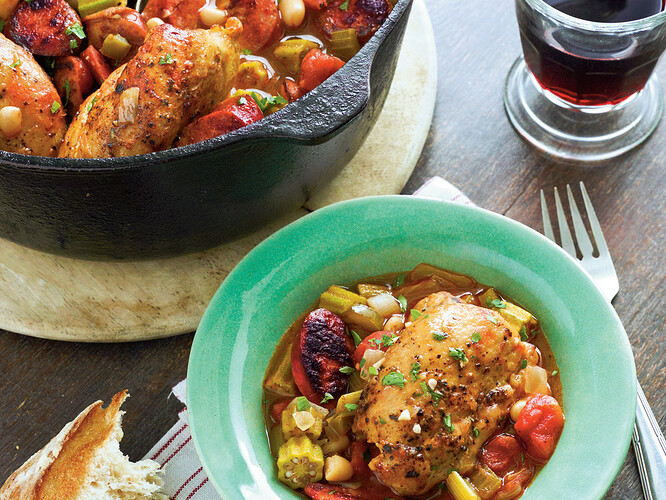 1 (16-oz.) package Cajun smoked sausage, cut into 1/2-inch slices
6 skinned and boned chicken thighs
1 teaspoon salt
1 large onion, chopped
1 medium-size green bell pepper, chopped
2 celery ribs, chopped
4 garlic cloves, chopped
2 cans cannellini beans, drained and rinsed
1 can 14 1/2-oz. diced tomatoes
1 1/2 cups chicken broth
1/2 package 16-oz. frozen sliced okra, thawed
1 1/2 teaspoons Cajun seasoning
Toasted Herbed Breadcrumb Topping (optional)
Preheat oven to 400°.
Cook sausage in a large cast-iron Dutch oven over medium heat, stirring occasionally,
4 to 5 minutes or until browned.
Remove sausage with a slotted spoon, and drain on paper towels, reserving drippings in Dutch oven.
Sprinkle chicken with salt.
Cook chicken in hot drippings over medium-high heat 2 to 3 minutes on each side or until browned.
Remove from Dutch oven.
Add onion and next 3 ingredients to Dutch oven, and cook, stirring often, 5 minutes or until onion is tender.
Add beans, next 4 ingredients, chicken, and sausage; cover with lid.
Bake, covered, at 400° for 40 minutes or until bubbly.
If desired, sprinkle with Toasted Herbed Breadcrumb Topping.