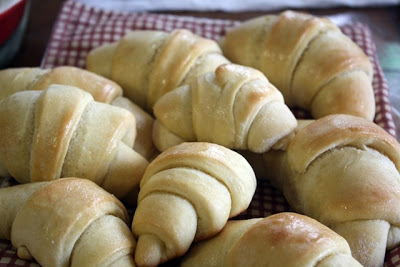 1 - (.25 ounce) package active dry yeast (2 1/4 teaspoons)
1 1/2 - cups warm water (110 degrees F/45 degrees C)
3 1/4 - cups all-purpose or bread flour
1 - 9 oz package Jiffy yellow cake mix
1/4 - cup margarine, melted to brush on baked rolls
Directions:
In a large bowl, dissolve yeast in warm water. Let stand until creamy, about 10 minutes. Stir in the flour and cake mix.
Beat until dough is smooth. Add some flour on the counter and knead any additional flour to the dough.
Knead until it is no longer sticky. Lightly oil a large bowl, place the dough in the bowl and turn to coat with oil.
Cover with a damp cloth and let rise in a warm place until doubled in volume, about 1 hour.
Lightly grease two baking sheets. Deflate the dough and turn it out onto a lightly floured surface.
Divide the dough into two equal pieces and form into rounds. Let rest for 5 minutes and then roll into 12 inch circles. Cut each circle into 10 wedges.
Brush melted margarine onto the circles. Roll up the wedges, beginning at the wide end.
Place on prepared baking sheets with the end of the roll on the bottom. Cover with clear wrap that has been sprayed with baking spray. Let rise until doubled, about 25 minutes.
Preheat oven to 350 degrees F (175 degrees C). Bake for 12 to 15 minutes, or until golden brown brush with additional butter when done.
yields: approx - 20 rolls