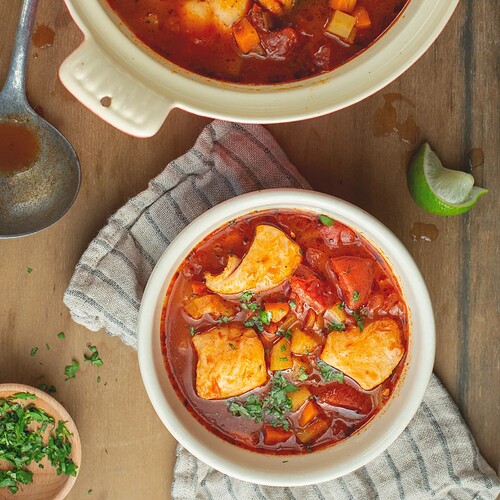 2 dried ancho chiles, stemmed and seeded
2 Tbsp. unsalted butter
2 Tbsp. vegetable oil
2⁄3 cup finely chopped white onion
3 garlic cloves, finely chopped
2 lb. ripe tomatoes, chopped, or 1 (28-ounce) can crushed tomatoes
1⁄2 tsp. dried thyme
1⁄2 tsp. dried marjoram
1⁄2 tsp. dried oregano
1⁄4 tsp. ground cumin
Kosher salt to taste
1 Tbsp. all-purpose flour
8 cups fish or seafood broth, shrimp broth, or water
1 bay leaf
1⁄2 tsp. freshly ground black pepper
1 pickled jalapeño, diced, plus 2 tablespoons of its brine
2 cups peeled and diced carrots
2 cups peeled and diced potatoes
2 lb. catfish, tilapia, cod, or snapper fillets, cut into 2-inch pieces
Lime wedges and plenty of chopped fresh cilantro leaves for serving
Place the ancho chiles in a bowl, cover with about 2 cups boiling water, and let sit for 10 minutes, or until they are plumped. Transfer the chiles and 1 cup of their soaking water to a blender and puree until smooth. Set aside.
Heat the butter and oil in a large pot over medium heat until the butter is bubbling. Add the onion and cook for 4 to 5 minutes, until it is softened and the edges begin to color. Add the garlic, stir, and cook for a minute, until fragrant. Increase the heat to medium-high and stir in the tomatoes. Add the thyme, marjoram, oregano, cumin, and a generous pinch of salt and cook, stirring occasionally, until the tomatoes have softened and cooked down a bit, 6 to 8 minutes. Sprinkle the flour over the tomatoes and onions, stir well, and cook, stirring, until the mixture begins to brown and smell toasty. Add the broth or water and bring to a simmer, stirring.
Stir the puréed anchos into the soup. Add the bay leaf, 1 teaspoon salt, the pepper, pickled jalapeño, and its brine and mix well. Bring back to a simmer, stirring, then reduce the heat to medium, cover partially, and simmer for 15 minutes, stirring occasionally.
Add the carrots and potatoes and continue to simmer for 15 to 20 minutes, until the vegetables are cooked through. Taste and adjust the salt.
Season the fish with salt and pepper, stir into the soup, and simmer for 5 to 8 minutes, or until just cooked through.
Ladle the soup into bowls and pass lime wedges and chopped cilantro at the table.