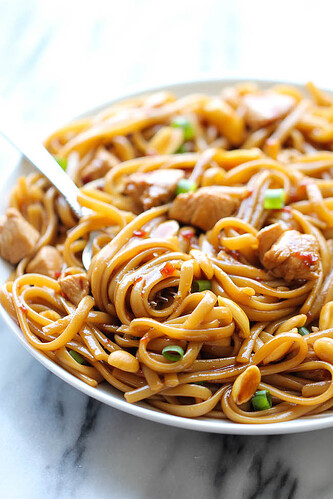 A copycat recipe that you can make right at home in less than 20 minutes. This is really a Chinese take-out favorite tossed in spaghetti noodles. It's wonderfully flavorful and savory with that extra spicy kick to it.
1 pound spaghetti
2 tablespoons vegetable oil
3 boneless, skinless thin-sliced chicken breasts
Kosher salt and freshly ground black pepper, to taste
4 cloves garlic, minced
1/2 cup dry roasted peanuts
2 green onions, thinly sliced
For the sauce
2/3 cup reduced sodium soy sauce
1/2 cup chicken broth
1/2 cup dry sherry
2 tablespoons red chili paste with garlic, or more, to taste
1/4 cup sugar
2 tablespoons red wine vinegar
2 tablespoons cornstarch
1 tablespoon sesame oil
In a small bowl, whisk together soy sauce, chicken broth, dry sherry, red chili paste, sugar, red wine vinegar, cornstarch and sesame oil; set aside.
In a large pot of boiling salted water, cook pasta according to package instructions; drain well.
Heat vegetable oil in a large skillet over medium high heat. Season chicken breasts with salt and pepper, to taste. Add to skillet and cook, flipping once, until cooked through, about 3-4 minutes per side. Let cool before dicing into bite-size pieces; set aside.
Add garlic to the skillet and cook, stirring constantly, until fragrant, about 1 minute. Stir in soy sauce mixture and bring to a boil; reduce heat and simmer until thickened, about 1-2 minutes. Stir in pasta, chicken, peanuts and green onions.