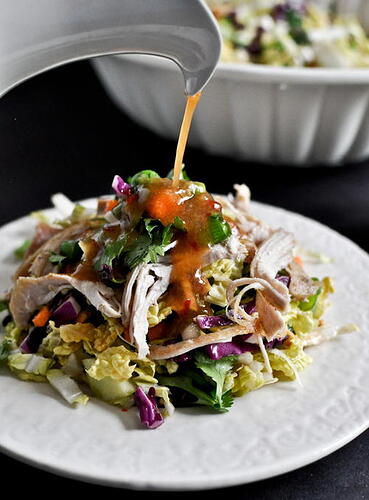 3 boneless, skinless chicken breasts
1/2 teaspoon salt
1/2 teaspoon pepper
Dressing + marinade
1 cup sweet chili sauce
1/2 cup rice vinegar
1/2 cup lite canned coconut milk
6 tablespoons brown sugar
4 garlic cloves, pressed or finely minced
2 tablespoosn creamy peanut butter
2 teaspoon-sized knobs of ginger, grated
2 limes, juiced
1 tablespoon soy sauce
Preheat oven to 375 degrees F. Spray a baking dish with non-stick spray. Season chicken with salt and pepper, then place in the baking dish.
Combine chili sauce, vinegar, coconut milk, sugar, garlic, ginger, peanut butter, soy sauce and lime juice in a saucepan, whisking to combine. Bring to a boil, the reduce to a simmer and cook for 3-4 minutes until slightly thickened. Remove from heat and pour half of the sauce over the chicken, turing chicken to coat completely. Set remaining sauce aside to dress the salad with.
Bake chicken for 25-30 minutes, or until it is cooked through.
Salad
1 small napa cabbage, chopped
1/2 small red cabbage, chopped
6 green onions, sliced
1 large cucumber, peeled, sliced and quartered
2/3 cup chopped or sliced carrots
2/3 cup edamame
2/3 cup torn fresh cilantro
2/3 cup chopped peanuts
While chicken is cooking, combine all salad ingredients, except for peanuts, in a large bowl and toss. When chicken has finished cooking, let cool for a few minutes then either shred or cut into chunks. Serve salad, top with chicken, top with peanuts, then top with dressing.