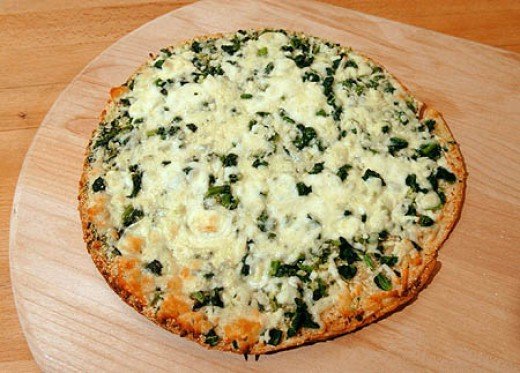 1 clove roasted garlic (if you don't have a stash in the freezer like me, mince a clove and continue)
2 Tablespoons olive oil
1 pound ball of pizza dough (see my Pizza Primer here)
2 cups torn spinach leaves
1/3 to 1/2 cup crumbled feta cheese
1 cup shredded Italian blend cheese
Penzey's Pasta Sprinkle or other Italian blend seasoning mix
Preheat oven to 450 degrees Fahrenheit. I have a baking stone that lives in my oven, and I cook my pizzas on that. If you don't, use a cookie sheet.
In a small skillet, warm the oil and garlic together over low-medium heat, whisking to get the garlic to 'melt' into the oil. Go help a kid with an essay and forget about the garlic for at least 10 minutes, until the bits of it are slightly browned but not burnt. Or just warm and whisk for 5 minutes, your choice. I don't know why I have to help with homework on Pizza Night.
Brush the warmed garlic oil across the pizza dough. Scatter the spinach across the top (I tore as I scattered, but I started with large stems of spinach–oh, if you have large stems like me, give the stems to the composting pigs and just use the leaves). Sprinkle feta cheese over top, then the shredded Italian blend. Shake Italian seasoning over the pizza. Slide the whole thing, parchment and all, into the oven. Bake at 450 degrees for 7-9 minutes. Shake the pizza off the parchment and onto the stone (or sheet). Bake an additional 3-5 minutes until the cheese is browned and bubbly. Cool on a wire rack then slice and serve.