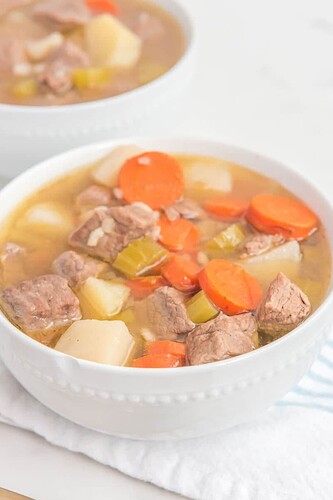 3 pounds beef stew meat
1/4 cup butter
3 quarts water
1 teaspoon pepper
1 tablespoon salt
1 1/2 cups chopped carrots
1 pound potatoes peeled and cubed
1 cup chopped celery
1/4 cup dried onions
1/2 cup barley
6 cubes beef bouillon
Brown the meat in butter in a skillet over medium-high heat.
On the Stovetop: Place the browned meat in a large pot or Dutch Oven. Add the remaining ingredients. Cook over low heat for 2 to 3 hours.
In a Crockpot Slow Cooker: Cook on low for 4 to 6 hours.
In an Instant Pot Pressure Cooker: Cook on high for 20 minutes. Perform a manual release.