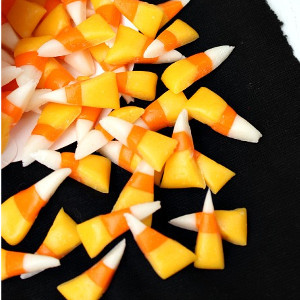 1 cup sugar, granulated (white)
2/3 cup light corn syrup
1/3 cup butter
1 teaspoon vanilla
2 1/2 cups powdered sugar
1/3 cup powdered milk
1/4 teaspoon salt
Orange and Yellow Wilton coloring
In a large bowl, combine powdered sugar, salt and powdered milk.
In a medium saucepan, combine sugar, butter and corn syrup.
Bring to a gentle boil, constantly stirring, turn down heat and continue boiling for about 3-4 minutes. Mixture should read 230 degrees on a candy thermometer.
Remove from heat and stir in vanilla.
Add to liquid mixture to the powdered sugar mixture, with a heavy wooden spoon or other sturdy spoon, stir together,
Place candy on wax paper, and allow to cool until you are able to handle it. Knead until all incorporated.
Divide into 3 equal parts and color with Wilton orange and yellow coloring. I used my hands to mix the coloring in, you can put gloves on if you want, but I didn't have any trouble washing off the coloring.
Roll each piece into long ropes, trying to keep the thickness close to the same size.
Place ropes together, with orange in the middle
Gently press ropes together, and flatten with your hands
With a sharp knife cut triangles, not every piece will have a white point (those are good for snacking)
Cut into several pieces, this recipe made a lot of candy corn
Store in airtight container.
Note
Be sure not to boil the mixture too long or the candy corn will be grainy. Adding a little more corn syrup to the mixture when boiling will make the candy corn a little softer.