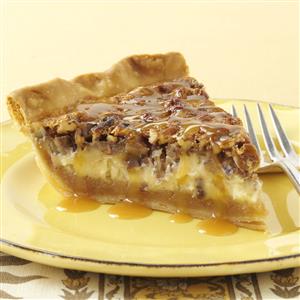 1 sheet refrigerated pie pastry
2 packages 8 ounce cream cheese, softened
1/2 cup sugar
4 large eggs
1 teaspoon vanilla extract
1-1/4 cups chopped pecans
1 jar (12-1/4 ounces) fat-free caramel ice cream topping
Additional fat-free caramel ice cream topping, optional
Preheat oven to 375°. Line a 9-in. deep-dish pie plate with pastry. Trim and flute edges. In a small bowl, beat cream cheese, sugar, 1 egg and vanilla until smooth. Spread into pastry shell; sprinkle with pecans.
In a small bowl, whisk remaining eggs; gradually whisk in caramel topping until blended. Pour slowly over pecans.
Bake 35-40 minutes or until lightly browned (loosely cover edges with foil after 20 minutes if pie browns too quickly). Cool on a wire rack 1 hour. Refrigerate 4 hours or overnight before slicing. If desired, garnish with additional caramel ice cream topping. Yield: 6-8 servings.
Editor's Note: This recipe was tested with Smucker's ice cream topping.