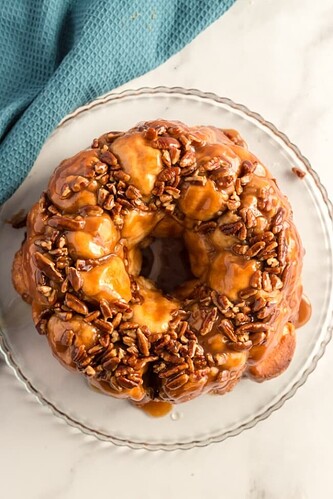 1 (1/4-ounce) envelope active dry yeast
1/4 cup lukewarm water (105 to 110 degrees Fahrenheit)
1 1/4 cups 2% milk, lukewarm (105 to 110 degrees Fahrenheit)
5 1/2 tablespoon unsalted butter melted, plus more for the bowl and pan
2 eggs
1/4 cup sugar
1 teaspoon sea salt
5 cups all-purpose flour
For the Caramel
2/3 cup light brown sugar, packed
4 tablespoons unsalted butter, cubed
1/4 cup heavy cream
3/4 cup pecans, chopped
Topping
1 cup sugar
1 teaspoon ground cinnamon
8 tablespoons unsalted butter, melted
For the Dough
In the bowl of a stand mixer, dissolve the yeast in 1/4 cup lukewarm (105 to 110 F) water. Let it sit for about 5 minutes. Add the milk, butter, eggs, sugar, salt and 3 cups of flour. Use the dough hook attachment and mix on medium for 4 minutes. Stir in the remaining flour and mix until well combined and a firm dough has formed.
Remove the dough from the bowl and onto a floured surface. Knead for about 6 minutes or until smooth and elastic.
Place the dough into a greased bowl. Cover and refrigerate overnight.
The next day when ready to make the caramel, grease a 10-inch bundt pan with butter or cooking spray.
To Make the Caramel
Into a small saucepan over high heat, add the brown sugar, butter and cream. Bring to a boil. Cook stirring constantly for about 5 minutes or until slightly dark and thick.
Remove from the heat and pour half of the caramel into the bundt pan. Sprinkle with half of the pecans.
To Make the Topping
In a shallow bowl, combine the cinnamon and sugar. Have the melted butter ready in a small bowl.
The Rest
Remove the dough from the refrigerator and press it down. Shape the dough into balls of about 1 1/4 inch. You will have about 40 balls.
Dip each dough ball into the melted butter and then roll it into the cinnamon sugar.
Arrange about 20 dough balls into the bundt pan and pour the rest of the caramel over them. Sprinkle with the remaining pecans.
Top with the rest of the dough balls. Cover and let it rise for about 45 minutes.
Preheat the oven to 350 degrees Fahrenheit.
Bake for about 30 to 35 minutes or until golden brown. Remove from the oven and let it cool for 10 minutes. Invert onto a serving platter.