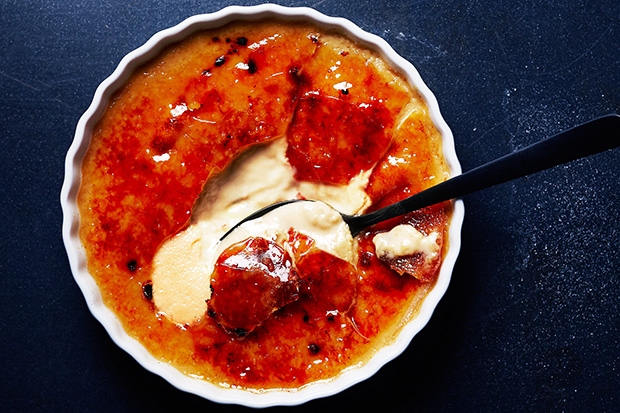 3/4 cup honey
1 vanilla bean, split lengthwise
3 cups heavy cream
1 cup whole milk
3/4 teaspoons kosher salt
8 large egg yolks
3 tablespoons sugar
Preheat oven to 300°. Place 3/4 cup honey in a medium saucepan and scrape in vanilla seeds; save pod for another use. Cook over medium-high, swirling pan occasionally, until honey darkens and smells almost burnt (don't worry, this is what you're going for!) and bubbling begins to slow, 5-8 minutes. Gradually add cream, then milk, to caramelized honey, stirring constantly until combined.
Whisk salt into egg yolks in a medium bowl, then stream in honey-caramel mixture, whisking constantly. Strain through a fine-mesh sieve into a large measuring cup. Divide among ramekins.
Place ramekins in a large baking dish lined with a dish towel (it will keep them from sliding around) and pour in boiling water around ramekins so it comes halfway up sides.
Bake until edges of custards are set but centers still jiggle slightly, 65-75 minutes. Remove ramekins from water bath and let custards cool, about 1 hour. Chill until firm, at least 2 hours.
Just before serving, sprinkle custards evenly with sugar and heat with torch until sugar is melted and caramelized to a deep amber color. Your goal is to make a thin, smooth, brittle crust that shatters when broken.
Do ahead: Custards can be made 5 days ahead. Cover and keep chilled.
Epicurious