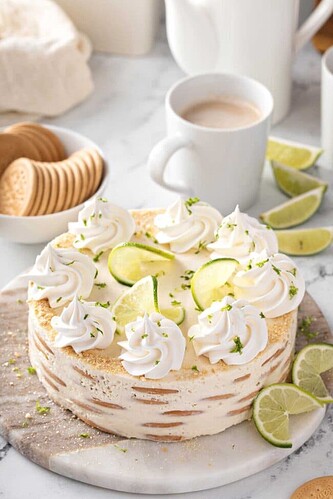 1 (12-ounces) can evaporated milk
1 (14-ounces) can sweetened condensed milk
Juice of 6 limes (about 3/4 cup of lime juice)
2 (6-ounces) packages Maria cookies (you can use graham crackers also)
Whipped Cream for decorating the top:
1 cup (240 ml) cold heavy cream or heavy whipping cream
2 tablespoons granulated sugar (or to taste)
1/2 teaspoon pure vanilla extract
To garnish (optional):
Lime zest, lime slices, berries, Maria cookie crumbs
Make the Icebox Cake:
Prepare your pan. Line the bottom and the sides of a 6 x 3 inch springform pan with parchment paper making sure the parchment paper extends about 1/4-inch higher than the sides of the pan.
Add the evaporated milk, condensed milk and lime juice to a blender. Cover and process at medium speed until well blended.
Spoon about 2-3 tablespoons of the lime cream mixture into the prepared pan.
Spread evenly to cover the bottom of the pan. Top with a layer of cookies. Break up the cookies into smaller pieces to cover open areas.
Add some of the lime cream mixture (about 1/2 cup), smooth the cream with a small spatula, then top it with a layer of cookies. Continue layering until there are no more ingredients left, ending with the creamy lime mixture. Cover and refrigerate for at least 4 hours or overnight.
Prepare the Whipped Cream:
Place a metal mixing bowl and metal whisk into the freezer for 10 to 15 minutes. Pour heavy cream, sugar and vanilla into the cold bowl and whisk on high speed until stiff peaks form. Refrigerate until ready to use.
Finish the cake:
Carefully remove the icebox cake from the pan and place it on a cake stand or platter. Decorate the cake with whipped cream. Garnish and serve.
Notes
Remove the cake from the pan using the overhang parchment paper on the sides.
You can substitute galletas marías with layers of vanilla wafers, vanilla biscuits or graham crackers.
This easy recipe can be made with key limes when in season.
If you don't have a springform pan, you can use a baking dish or casserole.
Refrigerate for at least 4 hours before serving. Overnight is better.