Have I got a treat for you on these chilly winter days! I've got the secret recipe for Carrabba's Italian Grill's minestrone soup and it's absolutely scrumptious. Seriously, it's bursting with flavor from all the delicious veggies in it. Trust me, once you've tasted this soup, you'll never want to go back to those boring, bland canned options.
Here's a pro tip: make a big batch of this soup and freeze individual portions for later. That way, you can have a cozy bowl of goodness anytime you want without any fuss. I always double or triple the recipe myself because, let's be honest, one bowl of this soup is never enough. So, what are you waiting for? Get cookin' and enjoy!
=-=-=-=-=-=-=-=-=-=
Secret Recipe Alert
=-=-=-=-=-=-=-=-=-=
Carrabba's Minestrone Soup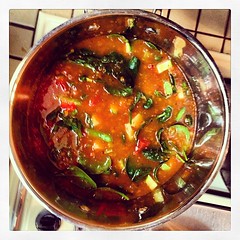 Soup Ingredients:
2/3 cup dried cannellini (white kidney) beans
1 garlic clove, peeled
1 bay leaf
1 small dried red Chile or 1/4 teaspoon crushed hot red pepper flakes
1 slice(1/4-inch-thick) prosciutto, about 4 ounces, cut into 1/4 inch dice (do not trim off the fat)
1/4 cup extra-virgin olive oil, plus more for serving
1 large yellow onion, cut into 1/2 inch dice
1 large leek, white and pale green parts only, cut into 1/2-inch dice
2 celery ribs, cut into 1/2-inch dice
2 small carrots, cut into 1/2-inch dice
4 garlic cloves, minced
1 teaspoon oregano
1 zucchini, trimmed and cut into 1/2-inch dice
1 can (14.5 ounces) diced tomatoes in juice
1 tablespoon tomato paste
3 cups reduced-sodium chicken broth or water
Rind from a 1-pound chunk of Parmesan cheese, about 6-by-2 inches
1 1/2 cups packed thinly sliced kale or Swiss chard leaves, thick stems removed
Kosher salt and freshly ground black pepper
Store-bought pesto for serving
Freshly grated Parmesan cheese for serving
Cooking Instructions:
At least 4 hours before cooking the soup, put the beans in a large bowl and add enough water to cover the bean by 2 inches. Let soak for at least 4 hours and up to 8 hours. (Or bring the beans and water to cover by 2 inches to a boil in a medium saucepan over high heat. Boil for 2 minutes. Remove from the heat, cover and let stand 1 hour.) Drain and rinse the beans.

Bring the drained beans, 5 cups water, the garlic, bay leaf and chile to a boil in a medium saucepan over high heat. Reduce the heat to medium-low and cover with the lid slightly ajar. Simmer until the beans are tender, about 30 minutes, depending on the age of the beans

Cook the prosciutto and oil together in a soup pot over medium heat just until the prosciutto is lightly browned, about 3 minutes. Add the onion and leeks. Cook, stirring occasionally, until softened, about 3 minutes. Add the celery, carrots, garlic and oregano, and cook until the vegetables are beginning to soften, about 3 minutes more. Add the zucchini and cook until it begins to soften, about 3 minutes.

Add the tomatoes and their liquid and the tomato paste, bring to a boil and cook 3 minutes. Add the broth, the beans and their liquid, and the Parmesan rind. Bring to a boil. Reduce the heat to medium-low. Simmer until the flavors are blended, about 1 hour. Stir in the kale and cook until tender, about 5 minutes.

Remove the Parmesan rind. Ladle into soup bowls, and top each serving with a spoonful of pesto and a drizzle of oil. Serve hot, with the grated Parmesan cheese passed at the table.
Source: Carrabba's Italian Grill
Until Next Time… Be Well!
RSN