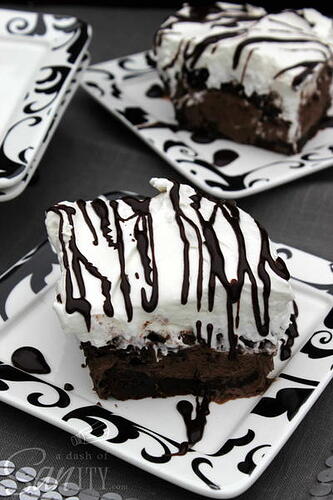 Chocolate Amore:
1 or 2 recipes dark chocolate mousse or 3 packages of Dr.Oektker Instant Dark Chocolate Truffle Mousse mix prepared
2 Ghirardelli Chocolate Supreme brownie mixes
1 recipe homemade whipped cream
Dark chocolate shavings
hot fudge
Dark Chocolate Mousse:
5 1/4 ounces Ghirardelli bittersweet chocolate, coarsely chopped
14 ounces cold heavy cream
3 large egg whites
2 tablespoons sugar
Whipped Cream*
1 pint whipping cream
2 tablespoons sugar
1 tablespoon clear vanilla extract
Hot Fudge:
1/2 c packed light brown sugar
1/4 c unsweetened cocoa powder
1/4 c unsalted butter
1/4 c milk
1 teaspoon vanilla extract
Ghirardelli Chocolate Supreme Brownies:
Follow directions on the box.
Grease 2- 9x13 pans and bake at 325 for 30-35 minutes.
Set aside until completely cooled.
Dark Chocolate Mousse:
Place chocolate in a double boiler at a low simmer.
Stir chocolate until melted.
Turn off the heat and let stand.
Beat the cream over ice until it forms soft peaks.
OR you can put the Kitchen Aid bowl in the freezer for 20 minutes then removed the bowl from the freezer.
Add the cream and whisked using Kitchen Aid until it formed soft peaks.
Set aside and hold at room temperature.
With a mixer, whip egg whites to soft peaks.
Gradually add the sugar and continue whipping until firm.
Using a whisk, fold in the egg whites all at once to the chocolate.
When the whites are almost completely incorporated, fold in the whipped cream.
Cover the mousse and refrigerate for approximately 1 hour or until set.
Whipped Cream:
Using a mixer whip cream and vanilla until it forms soft peaks, add sugar and whisk until stiff peaks are formed.
Chill in the refrigerator until ready to use.
Hot Fudge:
Mix brown sugar and cocoa powder in a small bowl and set aside.
In a medium saucepan, cook butter and milk until it starts to bubble (about 5 min on medium heat).
Add cocoa mixture. Stirring constantly with a wooden spoon, cook for 2 minutes until smooth.
Remove from heat and stir in vanilla.
Let sit for at least 5 minutes. It will thicken.
Store covered in refrigerator for up to 1 week.
Reheat for 10 seconds in microwave before using.
Chocolate Amore:
To assemble Chocolate Amore Cake layer the following in a 9x13 serving pan.
These usually are just for serving, they allow for higher edges allowing you to add several layers.
If you don't have one I have used a small roasting pan before too or a regular 9x13 but just be careful on not overfilling, may need to omit top brownie layer.
Trim off all the edges from the brownies in both 9x13 pans, just ¼ of inch and less.
This just takes away the crunchy edges you get with brownies.
Lay down the first layer in your 9x13 serving pan.
Top with all of the dark chocolate mousse.
Then add the next layer of brownie gently on top of the mousse.
Top with whipped cream.
Cover and place in the refrigerator for 1 hour or more until serving.
Cut a piece then top with chocolate shaving and drizzle with room temp hot fudge.