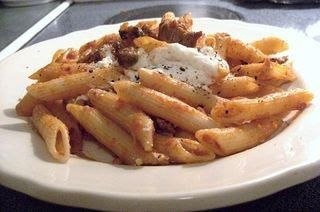 2 tbsp Olive Oil
1 cup onion, chopped
1 cup fennel, chopped
1-1/2 lbs Italian Sausage, crumbled
1/2 cup water
6 cups tomato sauce
1 lb penne pasta
1/2 cup grated romano cheese
1/4 cup ricotta cheese
Heat olive oil over medium heat. Sauté onions and fennel for 10-15 minutes or until golden brown. Stir frequently. Add sausage to the pan and brown.
Once the sausage has browned add the water and tomato sauce, increase heat and bring sauce to a boil stirring frequently. Reduce heat and let simmer for 5 minutes.
Drop penne in boiling salted water and cook until al dente. Drain pasta in colander.
Add pasta in with sauce and toss to coat.
Add Romano cheese, toss with the pasta until melted.
Transfer pasta to serving dish or individually plate and serve with a dollop of ricotta on top.