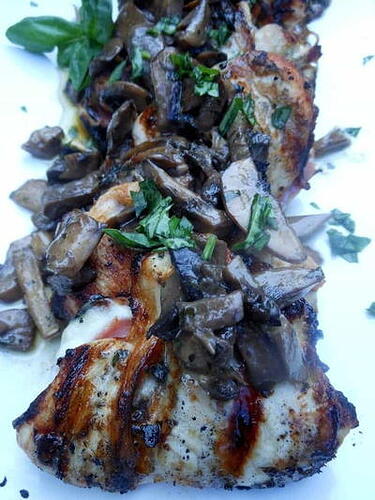 Marinade:
1 large lemon, zested and then juiced (about 2 tablespoons fresh lemon juice– set the zest aside)
2 tablespoons olive oil
1 1/2 tablespoons chopped fresh basil
1 teaspoon kosher salt
Chicken:
1 1/2 pounds boneless skinless chicken breast, thinly sliced or pounded to 1/2? thick (usually about 4-6 pieces)
4-6 slices of very thinly sliced deli ham (or prosciutto– see note)
4-6 ounces goat cheese
For the Mushrooms with Lemon Basil Butter Sauce:
8 ounces sliced mushrooms
the lemon zest (reserved from the juiced lemon)
4 tablespoons unsalted butter
1 1/2 tablespoons chopped fresh basil
1 teaspoon kosher salt
Combine all of the marinade ingredients (lemon juice, olive oil, fresh basil, and kosher salt) in a large bowl.
Add the chicken pieces, cover and turn to immerse them in the marinade completely, cover, and refrigerate for 30 minutes.
Assemble the chicken by laying a slice of ham on each piece of marinated chicken.
Top the ham with about 1 ounce of cheese and then fold the chicken over sandwiching the ham and cheese inside.
Heat the grill to about 400-450 (hot is good so you don't have to worry about the chicken sticking).
Place the mushrooms, lemon zest, butter, basil, and salt in a saucepan on the stove (or a grill burner if you have it!).
Cook over medium heat. The butter will melt and the flavors will blend.
Stir the mushrooms and butter sauce occasionally.
Grill the chicken– 3-5 minutes on each side should be sufficient if your meat is thin enough.
Always make sure the internal temperature for chicken is 160-165 degrees.
15 minutes on the grill should be plenty.
Top the chicken with the mushrooms and lemon basil butter sauce.
Garnish with more chopped basil.
Serve immediately.