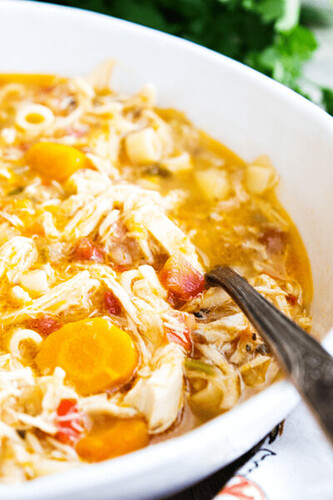 1 whole chicken, 3-4 lbs
1 yellow onion, finely chopped
4 celery ribs, diced
3 carrots or 12 mini carrots, diced
2 red bell peppers, diced
2 medium russet potatoes, peeled and diced into ½ -inch diced, you may use any baking potato
1 – 14.5 ounce can diced tomatoes
½ cup fresh flat-leaf Italian parsley
5 garlic cloves, minced
Kosher salt and black pepper, to taste
½ lb. ditalini pasta
In a large soup pot place whole chicken, onion, red peppers, celery, carrots, potatoes,
diced tomatoes with their juices and then add enough cold water to cover by 1 inch.
Over high heat bring to a boil.
Then add parsley, garlic, 1 tablespoon of salt and pepper.
Reduce the heat to medium-low, cover partially with a lid.
Let it simmer for 2 hours, or until chicken is falling off the bone.
Remove chicken and let it cool, for 30 minutes or until cool to the touch.
Reduce heat to low and let the soup continue to simmer.
Remove all the meat from the chicken and shred the chicken into large pieces.
Discard the skin and bones.
In a medium sauce pan cook pasta as directed on box.
Drain well and set aside in a bowl.
Using a potato masher, mash the soup around a few times, letting some of the potatoes get a little smashed.
I don't try too hard on this, I just mash 2-3 times and call it good.
Add the shredded chicken and noodles to the pot.
Note
You can serve the soup with the noodles on the side, letting each person add the amount of noodles they want.