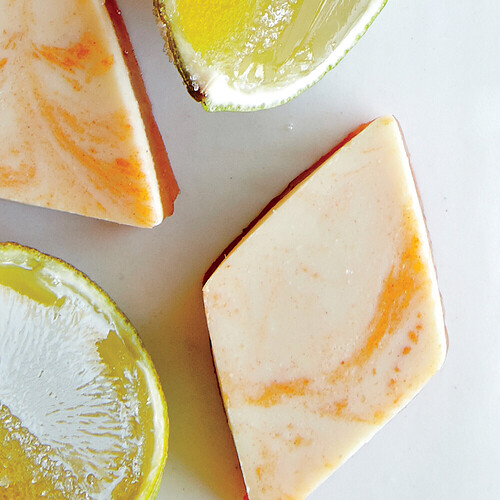 Carrot layer:
2/3 cup carrot juice
1/3 cup pineapple juice
3 tablespoons sugar
2 tablespoons honey
1 tablespoon ginger juice (such as The Ginger People)
1/4 teaspoon ground cinnamon
Dash of ground cloves
2 (1/4-ounce) packets unflavored gelatin
3/4 cup bourbon
1/2 teaspoon vanilla extract
1/2 teaspoon almond extract
Cooking spray
Vermouth cream layer:
2/3 cup evaporated milk
1/3 cup dry vermouth
2 1/2 tablespoons sugar
1 tablespoon fresh lemon juice
1 tablespoon fresh orange juice
1/2 teaspoon vanilla extract
1 (1/4-ounce) packet unflavored gelatin
To prepare carrot layer, combine carrot and pineapple juices, 3 tablespoons sugar, honey, ginger juice, cinnamon, and cloves in a saucepan over medium-low heat. Sprinkle 2 packets gelatin over mixture; let stand 1 minute. Increase heat to medium; cook, stirring constantly, until gelatin and sugar dissolve.

Remove pan from heat; stir in bourbon, 1/2 teaspoon vanilla, and almond extract. Pour into an 11 x 7-inch glass baking dish lightly coated with cooking spray. Place dish in refrigerator; refrigerate 45 minutes.

To prepare cream layer, combine evaporated milk, vermouth, 2 1/2 tablespoons sugar, lemon and orange juices, and 1/2 teaspoon vanilla in a saucepan over medium-low heat; sprinkle 1 packet gelatin over mixture. Increase heat to medium; cook until sugar and gelatin dissolve, stirring constantly. Cool 3 minutes. Gently pour vermouth mixture evenly over carrot mixture in dish. Refrigerate 4 hours or until set. Dip bottom of dish in warm water. Using a sharp knife, cut gelatin into 32 equal cubes; carefully remove from dish using a spatula.