Today's 5 star restaurant secret recipe comes from Catch & Release, a nautically themed seafood eatery in Marina Del Rey, California. This restaurant is the creation of Chef Jason Neroni and features lobster rolls, fried clams and cod chowder.
One of their delicious signature dishes is the salmon tartare. A blend of raw fish, pine nuts and pickled mustard seeds served on grilled bread. It's a simple dish and easy to make.
We also have a great selection of salmon recipes on our forum: Go Here
Enjoy!
=-=-=-=-=-=-=-=-=-=-=-=-=-=-=-=-=-=-=-=-=-=-=-=
Lose Weight While Still Enjoying Your Favorite Restaurants
Try this Water Hack
=-=-=-=-=-=-=-=-=-=-=-=-=-=-=-=-=-=-=-=-=-=-=-=
=-=-=-=-=-=-=-=-=-=-=
New Secret Recipe
=-=-=-=-=-=-=-=-=-=-=
Catch & Release's Salmon Tartare
Like this recipe? Get our Restaurant Secret Recipes Cookbook – Go Here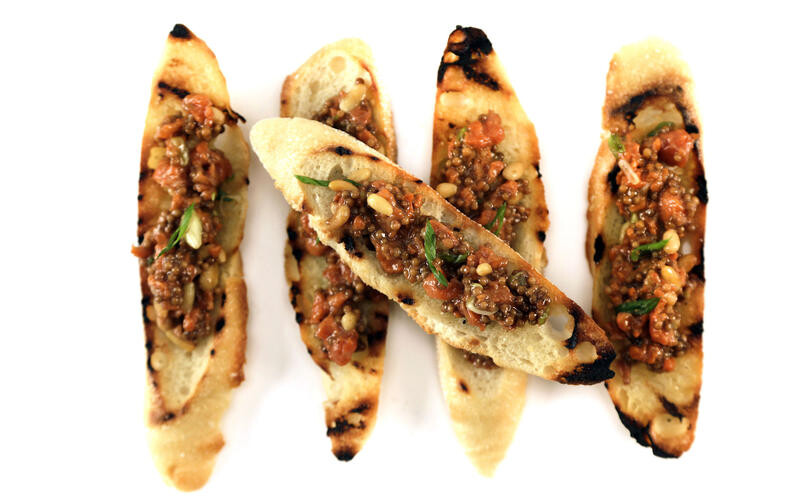 Pickled mustard seeds:
1 cup balsamic vinegar
1 cup yellow mustard seeds
1/2 cup simple syrup
Bring the balsamic vinegar to a boil, then remove from heat and pour the mustard seeds over the vinegar. Cover and set aside overnight. The next day, stir the simple syrup in with the seeds. If the liquid isn't completely absorbed, strain the seeds before using. The pickled seeds should have a caviar-like texture. This makes more pickled mustard seeds than is required for the remainder of the recipe; the seeds will keep, covered and refrigerated, up to 2 weeks.
Salmon tartare:
1 (6-ounce) fillet of wild king salmon, put through a meat grinder or finely chopped
2 scallions, finely sliced into rings
Juice from ½ lemon
1/4 cup toasted pine nuts
1/4 cup pickled mustard seeds
1/4 cup olive oil, Sicilian if possible
Dash smoked paprika
Sea salt
Fresh cracked pepper
Charred country bread, for serving
In a bowl, combine the salmon with the scallions, lemon juice, pine nuts, pickled mustard seeds, olive oil, smoked paprika, 1/4 teaspoon salt, or to taste, and several grinds of pepper. Mix well and set aside for 5 minutes before serving. Garnish with parsley leaves and serve with the charred bread on the side.
Serves 4-6
Get more secret restaurant recipes on our Secret Recipe Forum: Go Here
Until Next Time… Be Well!
Kind Regards,
RSN