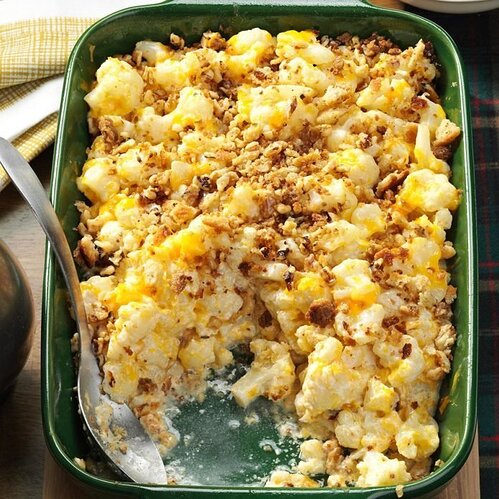 3 packages (16 ounces each) frozen cauliflower
2 cups sour cream
2 cups shredded cheddar cheese
3 teaspoons chicken bouillon granules
1-1/2 teaspoons ground mustard
1/4 cup butter, cubed
1 cup stuffing mix
3/4 cup California Walnuts
Preheat oven to 375°. Cook cauliflower according to package directions; drain.
In a large bowl, mix sour cream, cheese, bouillon and mustard until blended.
Stir in cauliflower; transfer to a greased 13x9-in. baking dish.
In a large skillet, heat butter over medium heat.
Add stuffing mix and walnuts; cook and stir until lightly toasted.
Sprinkle over casserole. Bake, uncovered, 17-20 minutes or until heated through and topping is browned.