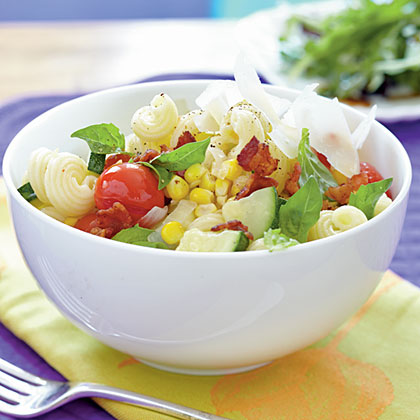 8 ounces uncooked cavatappi
4 slices center-cut bacon, chopped
2 teaspoons olive oil
1 cup prechopped onion
1 teaspoon bottled minced garlic
1 medium zucchini, quartered lengthwise and cut into 1/4-inch-thick slices
1 cup fresh corn kernels (about 2 ears)
1 pint grape tomatoes
1/2 cup (2 ounces) shaved Parmigiano-Reggiano cheese, divided
1/4 cup small fresh basil leaves
1/2 teaspoon salt
1/4 teaspoon black pepper
Cook pasta according to package directions, omitting salt and fat; drain.

While pasta cooks, cook bacon in a large nonstick skillet over medium-high heat 5 minutes or until crisp. Remove bacon from pan with a slotted spoon, reserving drippings in pan; add oil to drippings. Add onion and garlic to pan; sauté 2 minutes, stirring occasionally. Add zucchini; cook 3 minutes, stirring occasionally. Stir in corn and tomatoes; cook 5 minutes or until tomatoes burst, stirring occasionally. Add pasta to tomato mixture; toss. Cook 1 minute or until thoroughly heated, stirring frequently. Remove from heat. Add 1/4 cup cheese, basil, salt, and pepper; toss to combine. Sprinkle with remaining cheese.
Mixed greens salad: Combine 1 tablespoon balsamic vinegar, 1 tablespoon orange juice, 2 teaspoons honey, 1/2 teaspoon Dijon mustard, 1/4 teaspoon salt, and 1/8 teaspoon pepper. Whisk in 1 tablespoon extra-virgin olive oil. Toss with 6 cups mixed salad greens.