Today's Secret Recipe comes from the Cayenne Cafe in Los Angeles, California. At Cayenne they prepare exquisite meals that are made from fresh organic ingredients. Executive Chef, Noura Elnasser takes inspiration from her mother and her travels to create an outstanding menu.
One of their signature dishes is the grilled chicken with a pomegranate-walnut sauce. The sauce is so delicious you could eat it by itself. This dish combines sweet and savory flavors to create an incredible taste in every bite.
To toast the walnuts for this recipe, place them on a baking sheet in a 350 degrees F oven for about 8 minutes.
Serve this chicken dish over rice pilaf by using this recipe from our forum: Go Here
Enjoy!
=-=-=-=-=-=-=-=-=-=
New Secret Recipe
=-=-=-=-=-=-=-=-=-=
Cayenne Cafe Chicken with Pomegranate-Walnut Sauce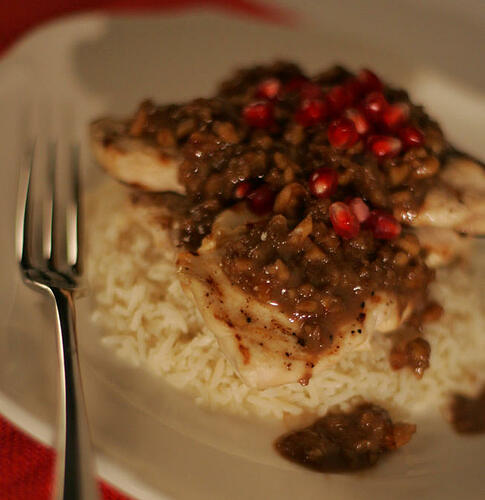 =-=-=-=-=-=-=-=-=-=-=-=-=-=-=-=-=-=-=-=-=-=
The
Alpine Secret
For Healthy Weight Loss.
=-=-=-=-=-=-=-=-=-=-=-=-=-=-=-=-=-=-=-=-=-=
Ingredients:
4 boneless chicken breasts
Salt
1 teaspoon black pepper, plus more for seasoning the chicken
1/4 cup light olive oil, plus more for brushing the grill
1/4 cup pureed fresh garlic (about 16 cloves)
2 cups chopped toasted walnuts
1/4 cup pomegranate molasses, plus additional to taste
1/4 cup dark brown sugar, plus additional to taste
1 1/4 to 1 1/2 cups chicken broth
Directions:
Heat a grill over medium-high heat. Slice each chicken breast on the bias into three crosswise pieces. With a mallet, pound each piece between two pieces of plastic wrap to one-fourth-inch thick. Season each piece lightly with salt and pepper. Lightly oil the surface of the grill, and place the chicken on the grill. Grill each piece about 2 minutes on each side, until cooked through. Remove and set aside in a warm place.

In a medium saucepan, heat the oil over medium heat until warmed. Add the garlic and cook, stirring constantly, until the garlic just begins to color, about 2 to 3 minutes. Remove from the heat.

Add the walnuts, pomegranate molasses and brown sugar and stir to combine. If the mixture is too thick, add just enough chicken broth until thin enough to stir.

Return the pan to medium heat. Heat the mixture, stirring in additional chicken broth just a little at a time, until the mixture has a sauce-like consistency (it will be thick but pourable). The sauce should be dark. The sauce should have a nice balance of sweet and sour flavors, but it can be adjusted with a little extra brown sugar or pomegranate molasses. Pour the sauce over the chicken and serve immediately. Extra sauce can be saved for another use.
Serves 4
Like Copycat Recipes? Get our Secret Recipes Cookbook Here.
Until Next Time… Be Well!
Kind Regards,
RSN