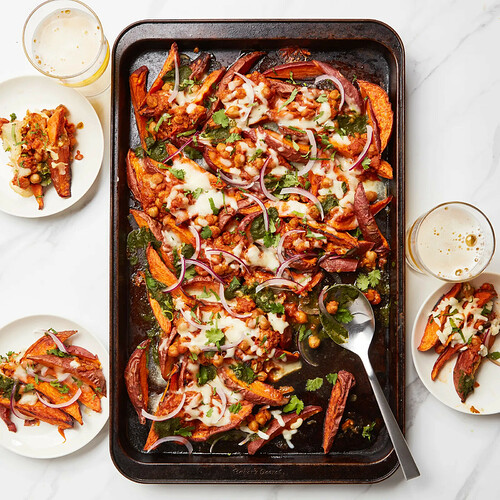 Chana Masala
2 tsp. coriander seeds or 1 tsp. ground coriander
2 tsp. cumin seeds or 1½ tsp. ground cumin
1½ tsp. garam masala
1½ tsp. Kashmiri chile powder or other red chile powder
1 tsp. ground turmeric
3 Tbsp. vegetable oil
1 medium onion, finely chopped
2 tsp. Diamond Crystal or 1 tsp. Morton kosher salt, divided
1–2 serrano chiles, finely chopped
4 garlic cloves, finely chopped
1 1" piece ginger, peeled, finely chopped
2 15-oz. cans chickpeas, rinsed
1 14-oz. can crushed tomatoes
Sweet Potato Fries
3 large sweet potatoes (about 1¾ lb.), scrubbed, cut lengthwise into ½" wedges
¼ cup extra-virgin olive oil
1 tsp. Diamond Crystal or ½ tsp. Morton kosher salt
Chutney and assembly
1 serrano chile, coarsely chopped
1 garlic clove
Zest and juice of 1 lime
1 cup mint leaves
2 Tbsp. extra-virgin olive oil
½ tsp. Diamond Crystal or ¼ tsp. Morton kosher salt
3 cups cilantro leaves with tender stems, plus chopped for serving
8 oz. Monterey Jack, Colby cheese, or low-moisture mozzarella, coarsely grated
Thinly sliced red onion and plain yogurt (for serving)
If using whole spices, finely grind coriander and cumin in a spice mill. Combine coriander, cumin, garam masala, chile powder, and turmeric in a small bowl.
Heat oil in a large pot over medium. Add onion and ½ tsp. Diamond Crystal or ¼ tsp. Morton kosher salt and cook, stirring occasionally, until golden and softened, 8–10 minutes. Stir in serrano chiles (add up to 2 depending on your heat preference and how spicy your chiles are), garlic, and ginger and cook, stirring occasionally, until starting to soften and fragrant, about 2 minutes. Add spice mixture and remaining 1½ tsp. Diamond Crystal or ¾ tsp. Morton kosher salt and cook, stirring, 1 minute (be careful not to burn spices).
Add chickpeas, tomatoes, and 1½ cups water to pot and stir to combine. Bring to a gentle simmer, then reduce heat to medium-low and cover pot. Cook until slightly thickened, 20–25 minutes. Uncover and mash about one third of chickpeas with a potato masher or fork. Continue to cook, uncovered, stirring occasionally, until chana masala is thick but spoonable, 8–10 minutes more. Remove from heat and cover to keep warm.
While the chana masala is cooking, preheat oven to 450°. Place sweet potatoes on a rimmed baking sheet, drizzle with oil, and season with salt. Toss to coat. Spread out in a single layer and roast, turning halfway through, until tender and browned in spots, 25–30 minutes. Set sweet potato fries aside; leave oven on.
Purée serrano chile, garlic, lime zest and juice, mint, oil, salt, and 3 cups cilantro in a blender, adding water a tablespoonful at a time if needed to thin, until chutney is smooth and pourable.
Sprinkle two thirds of cheese over reserved sweet potato fries, then spoon a generous layer of chana masala over. Sprinkle with remaining cheese. Return fries to oven and bake until cheese is melted, about 5 minutes.
To serve, drizzle half of chutney over fries and top with red onion and chopped cilantro. Serve with yogurt and remaining chutney alongside.