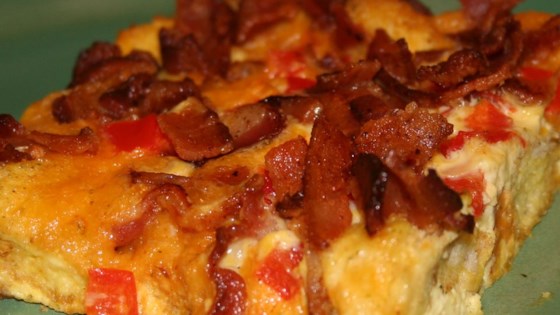 1 pound bacon
1/4 cup butter, melted
3 cups croutons
2 cups grated Cheddar cheese
6 eggs
1 3/4 cups milk
1 bell pepper (any color), diced
1 tablespoon prepared mustard
salt and pepper to taste
Cook bacon crisp in a skillet or microwave.
Drain, crumble and set aside.
Preheat oven to 325 degrees F.
Melt butter in the microwave, or in a small pan on the stove over low heat.
Spray a 9x12 inch baking dish with vegetable spray.
Place croutons in the bottom of the dish, and drizzle with melted butter.
Sprinkle with grated Cheddar cheese.
Crack the eggs into a bowl, whisking to break up the yolks.
Add milk, peppers, mustard, salt, and pepper, and beat until well-combined.
Pour over the croutons and cheese, and sprinkle with crumbled bacon.
Bake in the preheated oven for 40 minutes.
Remove from oven and allow to stand 10 minutes before serving.