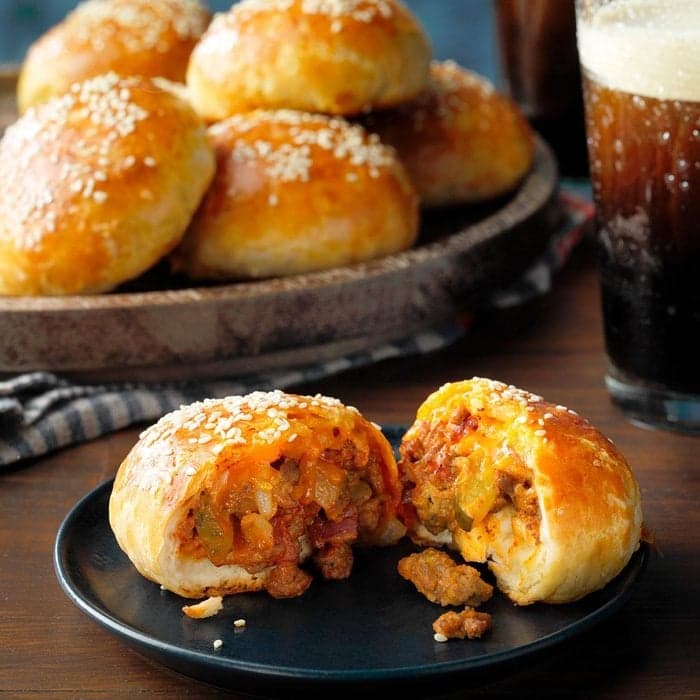 1/2 pound ground beef
1/4 cup chopped onion
1/4 cup crumbled cooked bacon
1/4 cup ketchup
2 tablespoons prepared mustard
2 tablespoons chopped dill pickle or pickle relish
1 tube (16.3 ounces) large refrigerated buttermilk biscuits
1/2 cup shredded cheddar cheese
1 large egg, room temperature, beaten
1/2 teaspoon sesame seeds
Preheat oven to 350°. In a large skillet, cook beef and onion over medium heat until beef is no longer pink and onion is tender, 3-4 minutes, breaking up beef into crumbles; drain. Stir in bacon, ketchup, mustard and pickles; cool slightly.
On a lightly floured surface, roll each biscuit into a 5-in. circle. Add 1 tablespoon cheese in the center of each biscuit; top with2 tablespoons meat mixture. Bring biscuit dough over filling to center; pinch to seal. Place seam side down on a parchment-lined baking sheet.
Brush tops with beaten egg; sprinkle with sesame seeds. Bake until golden brown, 18-20 minutes.