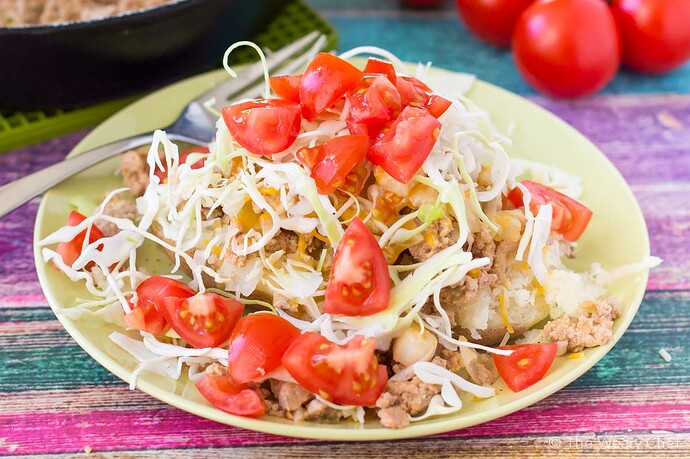 2 large baking potatoes
1 pound ground turkey or beef
1 small sweet onion diced
1 tablespoon ketchup
1 teaspoon yellow mustard
1 teaspoon Worcestershire sauce
1/2 teaspoon kosher salt
1 tablespoon dill relish
8 ounces shredded cheese your choice
4 Roma tomatoes diced
4 cups finely shredded cabbage or lettuce
salt and pepper to taste
Scrub potatoes, and prick all over with a fork. Cook in microwave approximately 8 minutes, turning once. Potatoes are done when a fork can be poked to the center easily with very little resistance.
While potatoes cook, spray a skillet with cooking spray or add a little olive oil and heat over medium-high heat. Add onion to hot skillet, and cook until tender, approximately three minutes.
Add ground meat, ketchup, mustard, Worcestershire sauce, and salt. Stir well, and cook and crumble the meat until cooked through.
Slice cooked potatoes in half lengthwise, and use a fork to fluff up the cooked potato, leaving the skin intact. Sprinkle with salt and pepper, and sprinkle a little cheese over the top. Spread a spoonful of meat over the potato, and sprinkle more cheese over the meat. Arrange cabbage and tomatoes over the potatoes, and serve.
4 servings