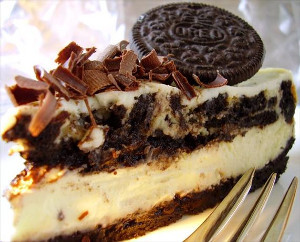 1 1/2 cups Oreo cookie crumbs
2 tablespoons melted butter
3 – 8oz blocks cream cheese (1 1/2 lbs)
1 cup sugar
5 large eggs
1/4 teaspoon salt
2 teaspoons vanilla
1/4 cup flour
1 cup sour cream
5 Oreo cookies (coarsely chopped)
Oreo cookies
Chocolate shavings
Whipped cream
Preheat oven to 325 degrees F.
Mix melted butter with Oreo crumbs and press in the bottom of a greased 9 inch springform pan. Cover bottom and 1/2 inch up the sides with crumbs. Refrigerate while you prepare the filling.
Beat cream cheese until light and fluffy. Keep mixer on a low setting during the mixing and beating process. Add sugar gradually and continue beating cream cheese until mixed through. Add eggs one at a time and continue to beat until blended. Stir vanilla, salt and flour into cream cheese and egg mixture. Add the sour cream.
Fold in the 5 coarsely chopped Oreo cookies with a rubber spatula. Pour mixture into springform pan.
Bake for 1 hr 15 minutes. Turn off the oven, prop the door open several inches and let the cheese cake stay in the oven for one hour.
Decorate with whipped cream, chocolate shavings and Oreos.