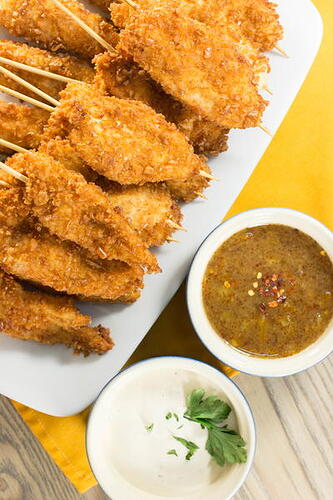 9 ounces pretzels, any shape
1 cup Panko-style bread crumbs
3 1/2 pounds chicken breasts, skinless & boneless
3/4 cup flour
1/2 teaspoon salt
1/4 teaspoon fresh ground pepper
1 cup buttermilk
48 ounces peanut or vegetable oil (see note)
36 (8-inch) bamboo skewers
Sauces for dipping
Prepare 3 baking sheets by lining two with foil or parchment paper and the third with a double layer of paper towel.
Crush pretzels in a plastic bag with a rolling pin or in a food processor to achieve very fine crumbs; you should have 3 cups. Combine with the bread crumbs and set aside.
Pull off the tenderloin portion of each chicken breast and cut the larger piece lengthwise into 1-inch wide strips. If necessary, flatten between two pieces of plastic wrap using a rolling pin or meat mallet so that all pieces are approximately the same thickness, about inch thick.
Place the flour into a shallow pan or bowl and add salt and pepper. Place the buttermilk in another shallow pan or bowl and put the pretzel/bread crumb mixture into a third shallow pan or bowl.
One by one, dip each chicken piece into the flour and shake off any excess, then dip into the buttermilk to coat. Roll in the crumb mixture until completely coated and then lay in a single layer on one of the bake sheets. Insert a bamboo skewer lengthwise into each of the chicken pieces. When all of the chicken has been coated and skewered, cover with plastic wrap and chill in the refrigerator for 20 minutes or up to 24 hours. Remove from the refrigerator about 15 minutes before you are ready to fry them.
Place oil into a wide fry pan to a depth of 2 inches and heat to 350 degrees F. Fry about 6 pieces at a time for 3 minutes, then turn and continue to fry 3- 4 minutes until golden brown and cooked through. Remove from the oil with tongs and drain on the paper towel lined pan.
Place the pan into a 250 degree F oven to keep warm while repeating with the remaining skewers.
Serve while warm with dipping sauce(s) of your choice.