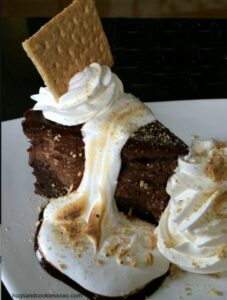 Flourless Cake
Preheat oven to 350. Grease 9 inch springform pan.
In microwave, melt:
4 ounces bittersweet chocolate chocolate chips
1 stick butter (8 Tablespoons)
Once melted, stir in:
3/4C. sugar
3 eggs
Whisk well.
Add 1/2C. unsweetened cocoa powder. Best to sift it in! Pour into the springform and set aside while preparing cheesecake layer.
Chocolate Cheesecake Layer
1 pound cream cheese, must be softened to room temperature
1/2 cup sugar
3 eggs
1/2 cup chocolate chips, melted (I used semisweet) and cooled a bit
Beat the cream cheese until fluffy. Add sugar and mix well. Add eggs one at a time. Pour in the cooled melted chocolate and mi to blend all. Carefully spread over the flourless cake layer. Bake the cake at 350 for 50-60 minutes. Let cool and then chill a few hours in the fridge.
Mousse Layer
1 1/4 cups semi sweet chocolate chips, melted in microwave and cooled a bit
2 cups heavy cream
Beat the cream in the mixer until almost soft peaks. Add the chocolate and mix just until combined and thick. Spread over the chilled cheesecake and chill again while preparing the glaze.
Glaze
12 ounces chocolate chips
1 cup butter
1 Tablespoon light corn syrup
Melt the chocolate and butter in the microwave until melted. Stir in corn syrup. Let cool a bit before pouring on cake. Pour on and spread and chill. Remove cake from fridge before serving so it can come up to room temp a bit. Cut with a hot knife and clean knife between slices. The top layer is thick and will be too hard to cut directly from the fridge. After a few minutes it is perfect and beyond delicious!
Marshmallow Topping (Note: this does contain raw egg whites so make sure they are safe for you and your guests) Recipe for marshmallow adapted from What's Cooking America.
3 egg whites
2 cups light corn syrup
1/2 teaspoon salt
2 cups powdered sugar
In a mixer, beat egg whites, corn syrup, and salt. Beat on high speed for 5 minutes or until doubled. On low, add powdered sugar. Place some in a piping bag and pour over each slice of cheesecake you are serving. Use a creme brulee torch to toast the marshmallow quickly. This makes a ton of marshmallow (fluff) so you can store the rest in the refrigerator for 2 weeks.
Cheesecake Factory Grilled Artichokes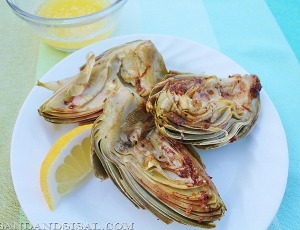 4 large artichokes
2 lemons
2 cloves garlic, minced
salt
3T olive oil
1 T steak sauce
2 tsp. Montreal Steak Seasoning
2 tsp. balsamic vinegar.
First, fill a large pot with 2 inches of water, two tablespoons of salt, a large lemon, quartered and garlic. Have an additional lemon wedge on hand. Cut off the bottom so they sit upright nicely. Next with a pair of kitchen scissors trim off the top 1/3 of the surrounding leaves. Really, this step is purely optional in my opinion. We never trimmed them when I was young. I think restaurants trim them because the tip of the leaves can be sharp.
Turn your artichoke on its side and with a large chef knife, cut it into quarters if it's very large or into thirds if it's smaller. The inside of the artichoke will discolor in less than one minute when exposed to air so immediately rub it with your lemon wedge. Take a paring knife and cut out the hairy "choke" and it's pink leaves. See the wedge on the left? That one has had the choke removed and it's left with all that beautiful white artichoke heart!
Place the artichokes in the pot and bring it up to a boil. Boil for approximately 8 minutes or until the heart is fork tender. Remove from heat and drain the artichokes in colander.
While the artichokes are cooking, you can prepare the marinade for the Grilled Artichokes. In a small bowl mix together 3 tablespoons of olive oil, 1 tablespoon of steak sauce, 2 teaspoons of balsamic vinegar, 2 teaspoons of Montreal Steak Seasoning.
Drizzle the marinade over the artichokes and gently toss to coat well. Place the artichokes on the grill over medium low heat and grill for just a few minutes until you see slight charring.
Serve the artichokes with additional marinade or melted butter for dipping. To eat the artichokes, peel off a leaf, dip the bottom in melted butter if desired, and use your teeth to scrape off the lower half of artichoke "meat" on leaf. Trust me, it's absolutely addicting!