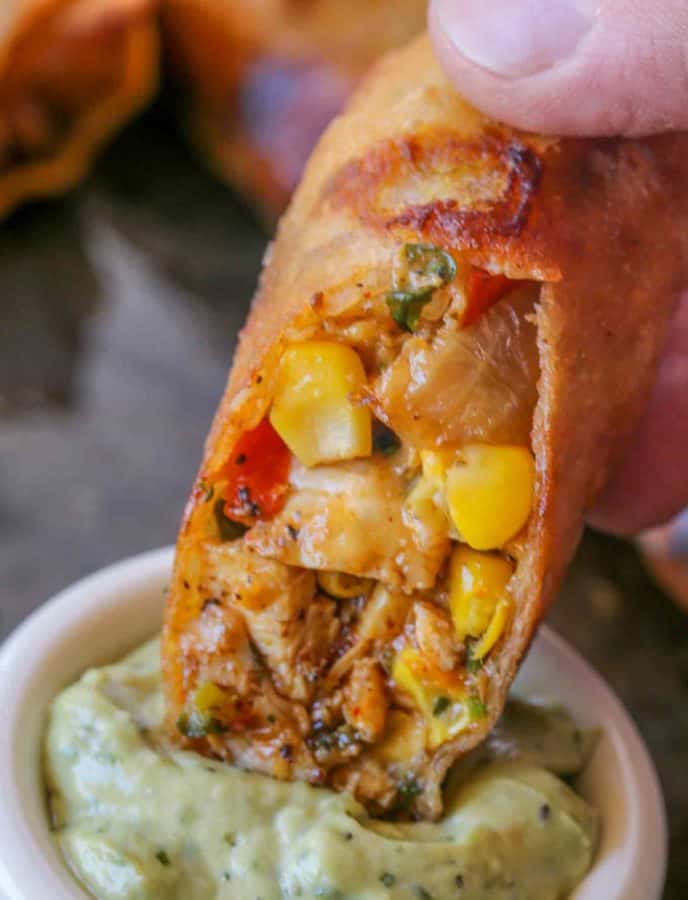 For the Egg Rolls:
1 package Egg Roll Wrappers
1 (15 oz) can Black Beans, rinsed and drained
1 cup corn
1 green bell pepper, diced
2 medium tomatoes, diced, (pat dry with a paper towel to remove some of the liquid)
1 small onion, diced
1-2 chicken breasts, cooked and shredded (optional)
1/2 tsp cumin
1 tsp garlic powder
1 tsp chili powder
1/2 cup shredded cheese (optional)
2-3 Tbsp Oil for light frying
For the Creamy Cilantro Dipping Sauce:
6 oz. cream cheese
1/4 cup sour cream
1 bunch cilantro
3 heaping Tbsp of your favorite salsa
In a large mixing bowl combine black beans, corn, pepper, tomatoes, onion, chicken, cumin, garlic powder, chili powder and cheese.
Open Egg roll wrappers and place a moist rag over them to keep them from drying out.
Grab one wrapper and place it on your counter with one corner pointing towards you. Place a heaping spoonfull of mixture on the eggroll wrapper. Take the wrapper end that is pointing towards you and fold it over the filling mixture. Fold in the sides of the wrapper, and then continue rolling the wrapper tightly all the way to the end. You can brush the ends of the wrapper with a little bit of water to help it stick together.
In a large skillet over medium high heat, drizzle 2-3 Tablespoons of canola or vegetable oil. When the oil is hot, place a few egg rolls at a time into the pan. Continually rotate them in the pan so that you toast all sides, but don't burn them. Once toasted, place egg rolls on a paper towel to dry.
For the dipping sauce, blend all sauce ingredients in a food processor until smooth.
Note
You may use more oil and deep fry these, but we find pan frying them works well!