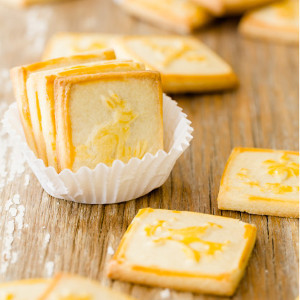 3/4 cup unsalted butter, room temperature
2/3 cup sugar
1 large egg
1 tablespoon milk
1/2 cup cornstarch
2 cups all-purpose flour
1/4 teaspoon salt
2 or 3 egg yolks, whipped
In a medium-sized mixing bowl, mix butter and sugar until light and fluffy.
Mix in egg.
Mix in milk.
In a separate bowl, whisk together cornstarch, flour, and salt.
Add dry ingredients to butter mixture a little bit at a time until it is all added. Keep mixing until the dough comes together and stops looking crumbly.
Roll out dough to 1/4" thick.
Use a springerle cookie mold lightly dusted with flour to stamp the cookies with a pattern.
Cut the cookies out with a knife or a bench scraper and place onto a cookie sheet lined with parchment paper.
Repeat until all the dough is used.
Place the cookie sheet in the freezer for at least an hour.
Preheat oven to 375 F.
Remove the cookie sheet and use a thick foam brush or simply a thick foam sponge (like you'd get at a makeup supply store) to paint egg yolk onto each cookie's image.
Bake for 9 minutes or until the egg-washed portions of the cookies are a light caramel color.
Set cookies out on a cooling rack to cool.