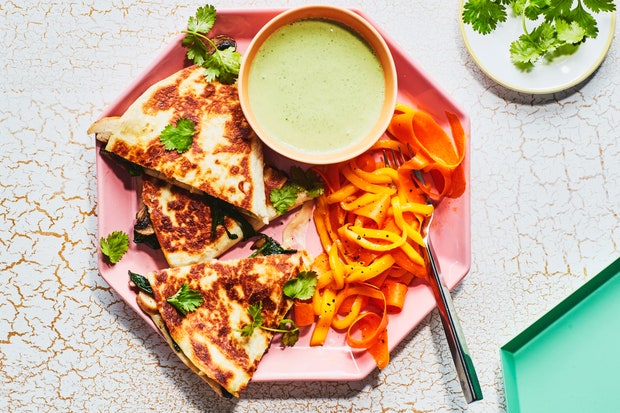 1/2 teaspoon ground cumin
5 tablespoons olive oil, divided
1 1/4 teaspoons kosher salt, divided
3/4 teaspoon freshly ground black pepper, divided
1 1/4 pounds boneless, skinless chicken thighs, trimmed
6 ounces button mushrooms, trimmed, coarsely chopped
2 limes
1/2 cup Greek-style plain full- or low-fat yogurt
3 tablespoons coarsely chopped cilantro, plus whole leaves for serving
2 medium carrots (about 4 ounces each), peeled
1 medium mango, thinly sliced
5 ounces baby spinach (about 4 packed cups)
4 (10") flour tortillas
2 cups shredded Monterey Jack cheese (about 8 ounces)
Preheat oven to 425°F. Stir cumin, 3 Tbsp. oil, 1 tsp. salt, and 1/2 tsp. pepper in a large bowl.
Add chicken and mushrooms and toss to coat.
Spread on a rimmed baking sheet and roast until internal temp is 165°F, 15–17 minutes.
Meanwhile, juice limes to yield 6 Tbsp. juice.
Blend yogurt, 3 Tbsp. lime juice, and 3 Tbsp. cilantro in a blender until smooth.
Shave carrots with a vegetable peeler lengthwise into ribbons.
Whisk 1 Tbsp. oil and remaining 3 Tbsp. lime juice, 1/4 tsp. salt, and 1/4 tsp. pepper in a large bowl.
Add carrots and mango; toss gently to coat.
Remove baking sheet from oven, arrange spinach over chicken,
and continue to roast until spinach is wilted, about 2 minutes.
Transfer chicken to a cutting board, leaving spinach on sheet, and thinly slice.
Arrange tortillas on a work surface.
Dividing evenly, layer cheese, chicken, mushrooms, and spinach on one side of each tortilla.
Fold tortillas in half to create half-moons.
Heat 1 1/2 tsp. oil in a large heavy skillet over medium-low until hot.
Cook 2 quesadillas, turning once, until cheese is melted and tortillas are browned, 1–2 minutes per side.
Transfer quesadillas to serving plates, then cook remaining quesadillas with remaining 1 1/2 tsp. oil.
Sprinkle quesadillas with cilantro leaves and serve with yogurt sauce and carrot-mango slaw alongside.