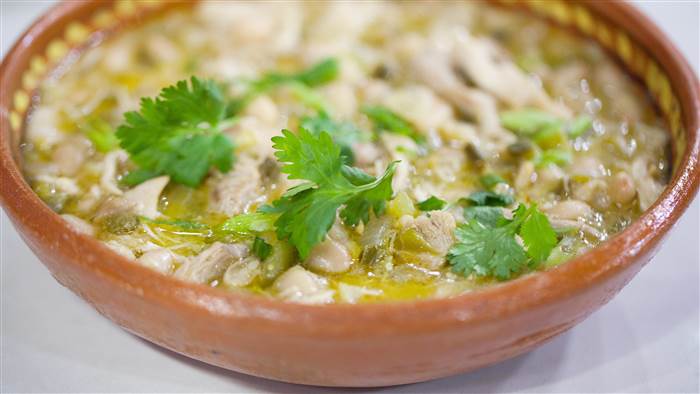 2 pounds boneless, skinless chicken thighs
2 teaspoons kosher salt, divided
1 teaspoon ground black pepper
4 tablespoons vegetable oil, divided
4 quarts chicken stock
1 cup yellow onions, diced
1 cup celery, diced
1/2 cup green bell peppers, diced
1/2 cup poblano peppers, diced
1 tablespoon garlic, minced
2 tablespoons jalapeno pepper, minced
1 tablespoon ground cumin
1/8 teaspoon ground cayenne
4 cups tomatillos, large diced
3 cups canned great northern white beans, rinsed
Season chicken thighs with 1 teaspoon kosher salt and 1 teaspoon ground black pepper.

In a large 8-quart Dutch oven, add 2 tablespoon vegetable oil and heat over medium high heat. Once the oil it heated, add the chicken to the pot and sear both sides until golden brown.

Lower the temperature and add chicken stock. Allow to cook until chicken is cooked thru and tender, about 20 minutes.

Remove chicken and any stock from pan. Set aside.

Bring heat to medium, add remaining 2 tablespoons vegetable oil. Add the onions, celery, green bell peppers, poblano peppers and remaining 1 teaspoon salt, sweat until tender. Add in the minced garlic, minced jalapenos, cumin, cayenne and tomatillos, reduce heat. Shred the chicken and fold into the chili. Allow to simmer until the tomatillos break down a little and chicken is very tender, about 30 minutes.

Fold in the white beans and simmer for an additional 15 minutes. Taste test if more salt is needed and adjust if necessary.