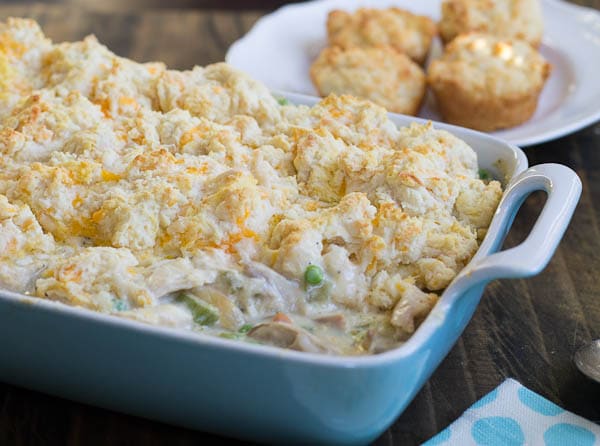 1/2 cup butter, divided
1 cup chopped celery
1 cup chopped carrots
1 cup chopped onion
1 (8-ounce) package sliced fresh mushrooms
1 cup frozen peas, thawed
2/3 cup all-purpose flour
4 cups reserved chicken broth
1/2 cup heavy whipping cream
4 cups reserved chopped cooked chicken
1 tablespoon minced fresh thyme
1 1/2 teaspoons salt
1 teaspoon ground black pepper
2 (7.5-ounce) bags complete buttermilk biscuit mix, Bisquick
2/3 cup shredded Parmesan cheese
2/3 cup shredded Cheddar Cheese
1 cup whole milk
Chicken and Broth
1 (4 1/2 pound) chicken, giblets removed
2 stalks celery cut into large pieces
1 onion, quartered
1/4 cup chopped parsley
4 sprigs fresh thyme
2 bay leaves
1 tablespoon salt
1/2 teaspoon ground black pepper
Make Chicken and Broth first.
Combine chicken, celery, onion, parsley, thyme, bay leaves, salt, and pepper in a large pot.
Add water to cover and bring to a boil. Reduce heat and simmer 45 minutes.
Remove chicken and let cool. Discard skin and remove chicken, shredding it into bite-sized pieces.
Strain broth and reserve 4 cups.
Preheat oven to 400 degrees and spray a 13X9-inch baking dish with cooking spray.
In a large skillet, melt 1/4 cup butter over medium-high heat.
Add celery, carrots, onion, and mushrooms.
Cook for 5 to 6 minutes, until vegetables are tender.
Stir in peas and set aside.
Melt remaining 1/4 cup butter in a Dutch oven.
Add flour and cook, stirring constantly, for 2 minutes.
Gradually add chicken broth, whisking constantly to avoid lumps.
Add cream and continue to cook for 3 to 4 minutes, whisking constantly.
Add reserved chicken, celery/onion mixture, thyme, salt, and pepper.
Check and make sure it is seasoned enough and add more salt if necessary.
Pour into prepared dish.
In a medium bowl, combine biscuit mix, cheeses, and milk.
Stir just until combines.
Take a spoon and drop large spoonfuls evenly over filling.
Bake 18 to 23 minutes, or until biscuits are golden brown.