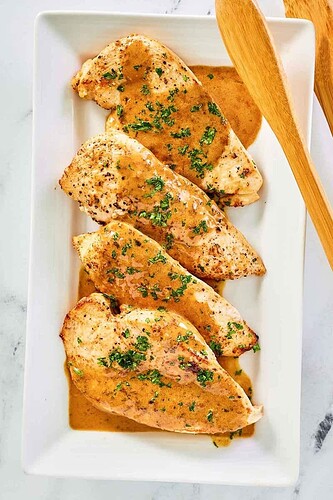 2 boneless skinless chicken breasts
1/2 teaspoon kosher salt
1/2 teaspoon ground black pepper
2 tablespoons olive oil
2 tablespoons butter
2 teaspoons chopped garlic
1/2 cup low-sodium chicken broth or dry Sherry
1/3 cup heavy cream
2 tablespoons Dijon mustard or 1 tablespoon Dijon mustard + 1 tablespoon stone ground mustard
Cut the chicken breasts in half horizontally. This will make the chicken breasts thinner, and they will cook faster. If the breast pieces are not uniform you may want to place them in plastic wrap or a zip top bag and pound them to a uniform thickness.
Season the chicken on both sides with salt and pepper.
Heat a large skillet to medium heat. Add the olive oil and butter and heat until the butter foams and becomes fragrant.
Place the chicken pieces into the skillet. Cook on both sides until the chicken is cooked through. Remove the chicken from the skillet.
Add the chopped garlic to the skillet and sauté until fragrant.
Add the chicken stock or dry sherry and scrape the browned bits from the bottom of the pan to deglaze.
Add the heavy cream and mustard and stir until the sauce is thoroughly mixed.
Spoon the sauce over the chicken to serve.