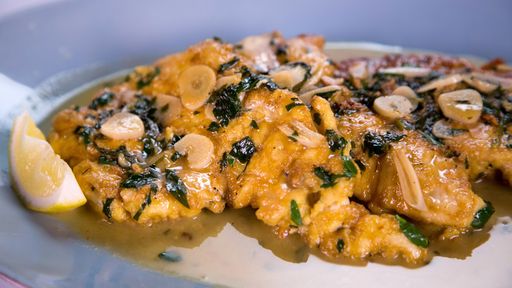 1/4 cup Extra Virgin Olive Oil
Flour for dredging
Salt and Pepper to taste
3 Chicken Breasts (boneless skinless; pounded to 1/4-inch)
2 Eggs plus 2 tablespoons Water (whisked)
2 Garlic cloves (sliced)
1/2 cup White Wine
1/2 cup Chicken Stock
1 Lemon (zest and juice)
1/3 cup Capers
6 tablespoons Parsley (roughly chopped)
3 tablespoons Butter
Heat oil in a large sauté pan over medium-high heat.
Season the flour with a generous amount of salt and pepper and whisk together in a baking dish.
Lightly coat the chicken breasts in the seasoned flour and then dip in the egg wash. Gently place in the hot oil and fry for 2 minutes or until golden brown. Flip the breast and fry for another 2 minutes until golden.
Add the sliced garlic to the pan and cook for about 20 seconds.
Deglaze with the wine, scraping up brown bits with a wooden spoon.
Stir in the broth, lemon juice and capers and allow to reduce for 1 to 2 minutes.
Add the lemon zest, parsley and butter and swirl to emulsify.
Plate the chicken with the sauce and serve.