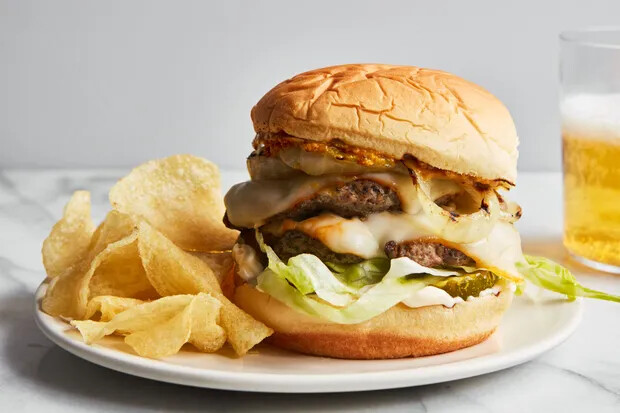 1 lb. crimini mushrooms, halved if large
½ tsp. Diamond Crystal or ¼ tsp. Morton kosher salt, plus more
1 lb. ground chicken or turkey, preferably dark meat
Vegetable oil (for grill and drizzling)
1 small onion, trimmed, sliced crosswise into 4 rounds
Freshly ground black pepper
8 thin slices Muenster
4 potato buns
4 Tbsp. mayonnaise
4 Tbsp. curry mustard (such as Brooklyn Delhi) or other mustard
Bread-and-butter pickles and shredded iceberg lettuce (for serving)
Pulse mushrooms with ½ tsp. Diamond Crystal or ¼ tsp. Morton kosher salt in a food processor until very finely chopped. (Alternatively, finely chop mushrooms by hand, then toss with salt in a medium bowl and let sit 2 minutes.) Transfer mushrooms to a clean kitchen towel, gather ends together, and wring over bowl to remove as much moisture as possible. Reserve liquid for another use.
Mix mushrooms and chicken in a large bowl with your hands until well combined. Divide mixture into 8 balls and gently form into patties about ¼" thick. Transfer to a parchment-lined baking sheet.
Prepare a grill for high heat; lightly oil grate. Drizzle onion with oil and season with salt. Grill on cooler edges of grill, turning occasionally, until slightly softened and charred, about 8 minutes. Transfer onion to a platter.
Season tops of patties with salt and pepper. Place, seasoned side down, on grate and season second side with salt and pepper. Grill until edges are browned, about 2 minutes. Flip and top with cheese. Grill until patties are cooked through and cheese is melted, about 2 minutes. Transfer patties to platter with onion.
Grill buns, cut side down, until lightly charred, about 30 seconds. Spread cut sides of bottom buns with mayonnaise and top buns with mustard. Layer pickles, grilled onion, 2 patties, and lettuce on bottom buns, then close up burgers.