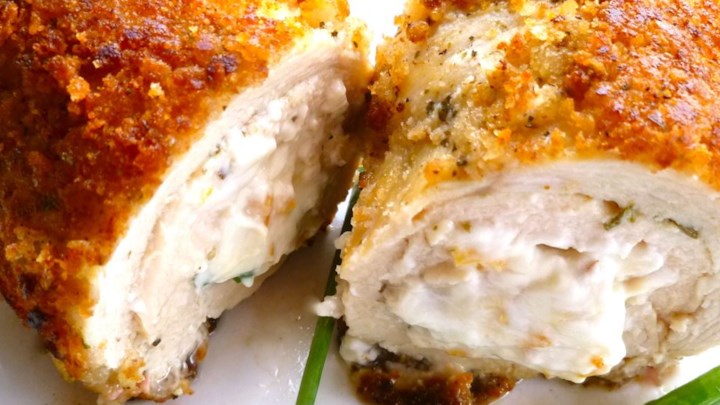 1 tablespoon Italian seasoning
1 tablespoon onion powder
1 tablespoon garlic powder
4 skinless, boneless chicken breast halves - pounded to 1/4 inch thickness
4 tablespoons garlic flavored cream cheese spread
1/4 cup garlic and herb seasoned dry bread crumbs
1 tablespoon butter
1 tablespoon vegetable oil
salt and pepper to taste
In a cup or small bowl, stir together the Italian seasoning, onion powder and garlic powder.
Sprinkle over both sides of the chicken.
Place 1 tablespoon of cream cheese on the center of each piece, and spread slightly.
Tuck in the sides, and roll up tightly. Secure with toothpicks.
Place the bread crumbs on a plate or in a shallow bowl.
Roll the chicken rolls in the bread crumbs to coat.
Place on a plate, cover, and freeze for about 30 minutes.
Preheat the oven to 400 degrees F (200 degrees C).
Heat the butter and oil in a skillet over medium-high heat.
Brown the chicken rolls on all sides, this should take about 5 minutes.
Transfer the rolls to a baking dish.
Bake for 20 minutes in the preheated oven, or until chicken is no longer pink and the juices run clear.
Spoon drippings from the dish over the rolls before serving.