This is our favorite hot weather salad. I just serve this with the honey mustard dressing, cold water or iced tea, fresh bread and a simple dessert
Kimmies Chicken Salad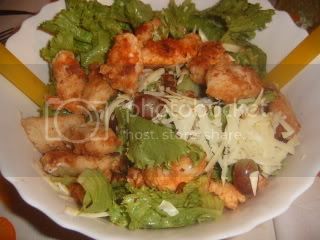 3 tablespoons butter, melted
1 cup chopped pecans
1/2 teaspoon salt
1/2 cup all-purpose flour
1/2 pound boneless skinless chicken breasts, cut into 1-inch strips
1/2 cup vegetable oil
7 cups torn romaine
1 cup seedless red grapes
1/2 cup dried cranberries
1/2 cup shredded sharp cheddar cheese
1 bottle (8 ounces) Vidalia onion or honey mustard salad dressing
Pour butter into a 15-in. x 10-in. x 1-in. baking pan; stir in pecans and salt. Bake at 350° for 10 minutes, stirring twice. Set aside.
Place flour in a large plastic bag; add chicken, a few pieces at a time, and shake to coat. In a skillet, heat oil to 375°. Fry chicken for 2-3 minutes or until golden brown on all sides and juices run clear. Drain on paper towels.
In a large salad bowl, toss the romaine, pecans, chicken, grapes, cranberries and cheese. Serve with dressing.
Honey Mustard Dressing
5 tablespoon medium body honey
3 tablespoon smooth Dijon mustard
2 tablespoon rice wine vinegar
Combine all ingredients in a bowl and whisk until smooth. Serve as a dressing or a dip.
Seves 4 to 6