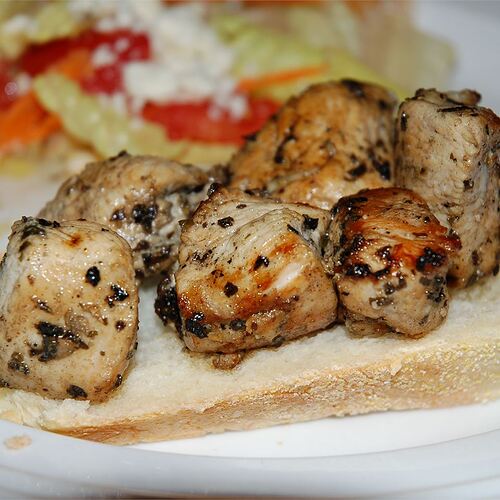 5 pounds chicken, cubed
2 cups olive oil
1 cup white vinegar
2 tablespoons lemon juice
2 teaspoons salt
5 cloves garlic, minced
2 teaspoons dried oregano
1 tablespoon garlic salt
3 tablespoons crushed dried mint
2 tablespoons dried basil
1 teaspoon fresh-ground black pepper
12 wooden skewers, soaked in water for 30 minutes
Place the cubed chicken into a large resealable plastic bag and add all the ingedients.
Seal the bag and shake until combined.
Refrigerate for 1 to 3 days, shaking the container to turn the meat every 6 to 8 hours.
Preheat an outdoor grill for medium-high heat and lightly oil grate.
When you are ready to cook, remove meat from the marinade and place on skewers.
Place the skewers on the preheated grill and cook, turning every three minutes until cooked through and the internal temperature of the meat reaches 170 degrees F.
Be careful not to overcook or the meat will be very dry.
Serve the grilled meat on Italian bread or hot dog rolls.