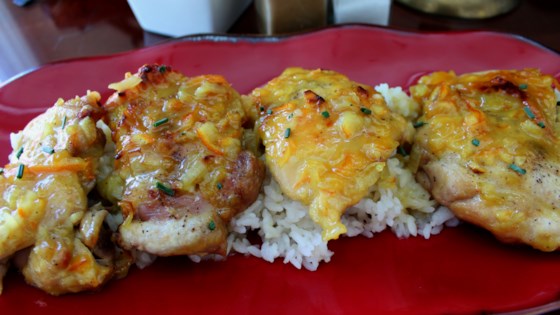 4 boneless chicken thighs
1 tablespoon olive oil
1/2 cup orange marmalade
2 tablespoons bourbon
1/4 cup yellow mustard
1/4 cup onion, diced
2 cloves garlic, minced
salt and ground black pepper to taste
Preheat the oven to 350 degrees.
Season chicken thighs with salt and pepper on both sides.
Heat olive oil in a skillet over medium heat.
Brown chicken on both sides, about 2 minutes per side.
Transfer chicken thighs to an 8-inch square baking dish.
Combine orange marmalade, bourbon, mustard, onion, and garlic in a small bowl.
Pour sauce into the skillet. Cook and whisk over medium heat to cook off the bourbon, about 2 minutes.
Pour sauce over chicken thighs in the baking dish.
Bake in the preheated oven, uncovered, until chicken thighs are longer pink and juices run clear, about 25 minutes.
An instant-read thermometer inserted in the center should read 165.