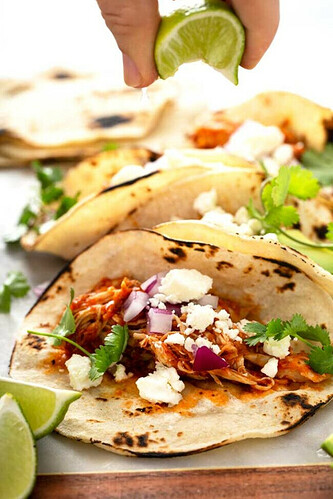 2 tablespoons olive oil
1 medium onion, roughly chopped
4 garlic cloves, minced
2-4 chipotle peppers in adobo sauce with about 1 tablespoon of adobo.
2 teaspoons dried oregano
1 teaspoon ground cumin
¼ teaspoon ground clove
1 28- ounce can fire-roasted tomatoes, crushed or diced
2 teaspoons honey
3/4 cup chicken stock
1 teaspoon chicken bouillon
6 cups shredded cooked chicken, about 2 pounds (you can use rotisserie chicken)
Corn Tortillas
Toppings for Serving:
Cotija cheese or Queso Fresco cheese, crumbled
Avocado
Diced Onions
Chopped Cilantro
Lime wedges
Heat the oil in a large skillet over medium heat. Add the onions and sauté, stirring occasionally for about 4 minutes or until they become translucent. Stir in the garlic and cook for about a minute.
Stir in the chipotles, adobo sauce, oregano, ground cumin and clove and cook for about a minute.
Stir in the tomatoes, honey, stock and MAGGI® granulated chicken bouillon. Bring to a simmer and cook over medium low heat for about 6-7 minutes.
Remove from the heat and place the sauce in a blender. Blend until the sauce becomes smooth.
Return the sauce to the skillet and stir in the chicken. Toss well so the chicken is coated with the sauce. If the mixture is a bit dry, add additional broth.
Return the skillet to the stove and cook the chicken mixture over low heat for about 3-4 minutes or until the chicken is warm and the flavors have melded.
Serve over corn tortillas topped with your favorite toppings.