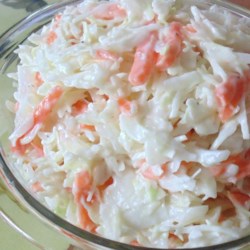 1/2 cup buttermilk
1/2 cup mayonnaise
1/3 cup white sugar
2 tablespoons lemon juice
2 tablespoons white vinegar
1/2 teaspoon salt
1/8 tablespoon ground black pepper
1 small head cabbage, finely shredded
1 small carrot, finely shredded
Whisk buttermilk, mayonnaise, sugar, lemon juice, vinegar, salt, and pepper together in a bowl.
Toss cabbage and carrot together in a large bowl. Drizzle dressing over the cabbage mixture; toss to coat.
Cover bowl with plastic wrap and refrigerate until chilled, at least 30 minutes.
Makes 4 cups