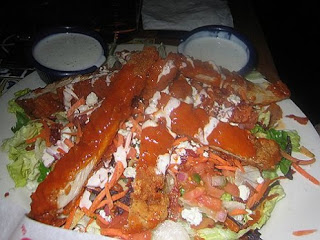 Pico de Gallo
1 Medium Tomato
1/2 Medium Onion
1 Green Onion
1/2 Jalapeno or other pepper
1/2 a bunch of cilantro
juice of a lime (to taste)
Chicken
8 oz. Boneless Skinless Chicken Tenderloins (about 4)
1/2 C Panko Bread Crumbs
1/2 tsp. Mrs. Dash Table Blend
8 Tbsp. Texas Pete Buffalo Wing Sauce
Salad
4 C Spring Mix (or other prepared salad mix)
4 Tbsp. Kraft Free Ranch Dressing
4 Slices of Turkey Bacon, cooked and crumbled.
Preheat oven to 425 degrees
While oven is preheating, make the pico de gallo
Chop tomatoes and onions
Finely dice pepper, cilantro, and green onion.
Mix ingredients in bowl, add the lime juice and mix again.
When the oven reaches temperature, prepare and bake the chicken
Place panko and Mrs. Dash in a gallon-sized ziploc bag.
Add tenderloins, seal, and mix to coat.
Place tenderloins in baking dish and bake for 30 minutes.
Remove dish from oven and let sit for 5 minutes.
Chop tenderloins into bite-sized pieces.
In a separate gallon-sized ziploc bag, place hot sauce.
Place tenderloins into bag, seal, and shake to coat.
Assemble the Salad
Place greens on plate.
Sprinkle with turkey bacon
Top with pico de gallo
Place tenderloin pieces on salad
Serve with ranch dressing on the side.
Makes 2 salads