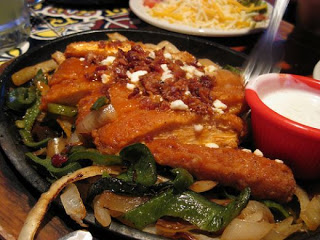 2 boneless skinless chicken breasts
1/2 red pepper, sliced
1/2 cup crumbled blue cheese
1/2 cup buffalo wing sauce
1/2 green pepper, sliced
tortillas
1/2 onion, sliced
Pour half the wing sauce into a plastic ziplock bag. Add chicken and marinate in refrigerator for and hour or two.
Cook the chicken breast on an indoor grill or in a grill pan on the stove.
Let the meat rest for 5 minutes.
In another pan saute the onions and peppers until soft.
Slice the chicken and put in a casserole dish. Add onions and peppers.
Pour in the rest of the wing sauce.
Sprinkle blue cheese on top.
Place under the broiler to melt the cheese.